A hot shot of espresso is a great way to start your day, but the long lines and high prices of coffee shops can be a buzzkill.
With Gayot's top five espresso machine picks, you can enjoy great espressos, cappuccinos, macchiatos and more from the comfort of home. While picking the perfect machine can be a daunting task, we've significantly narrowed the field with this list of smart and sophisticated espresso makers.
1. Breville BES860XL Barista Express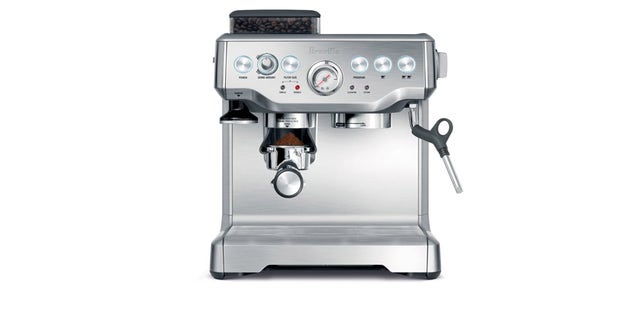 This top-of-the-line, stylish espresso machine is one of Amazon's most-wished-for models. It is well-built, easy to use and comes with enough bells and whistles to satisfy even the most demanding coffee connoisseur. The different sets of filters accommodate all levels of experience.
If you are an espresso-making novice, start out with the dual-wall, pressurized filters, which regulate the pressure for you and optimize extraction. If you're a skilled barista, use the single-wall, non-pressurized filters so that you can play with different grind sizes and amounts. The built-in burr grinder with dosing control is another major perk, allowing you to transform fresh whole beans into espresso in under a minute. This efficient machine accommodates both pods and ground coffee and comes with a stainless steel steam wand for lattes and cappuccinos. It may not be the cheapest model out there, but if it turns you into a barista it will eventually pay for itself.
2. Nespresso C100-US-AERO Essenza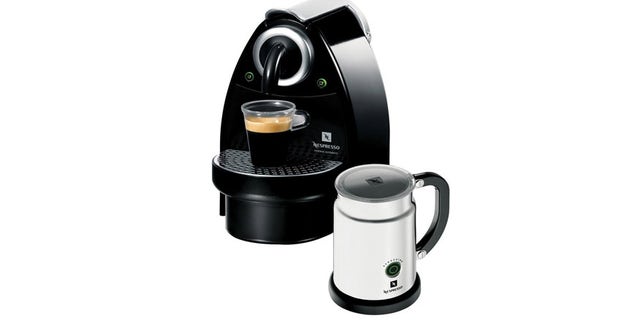 When it comes to taste, the Nespresso C100 really stands out from the crowd. Consumer Reports ranks this machine highest in its class, while the C100's many fans say it produces an unusually balanced, strong espresso. Although it's moderately priced for a pump-style model, you do have to invest in the Nespresso coffee capsules. The good news is that there are tons of flavors and the capsules keep mess to a minimum. You don't have to deal with loose grounds or filter holders, and the pods are automatically ejected into a used capsule container.
The C100 also delivers when it comes to cappuccino — the Aeroccino frother produces hot milk and foam with the touch of a button. If you want the ability to make high-quality espresso and cappuccino in the comfort of your own home, but don't need a super customizable machine, the C100 is an ideal choice.
3. KRUPS XP601050 Manual Pump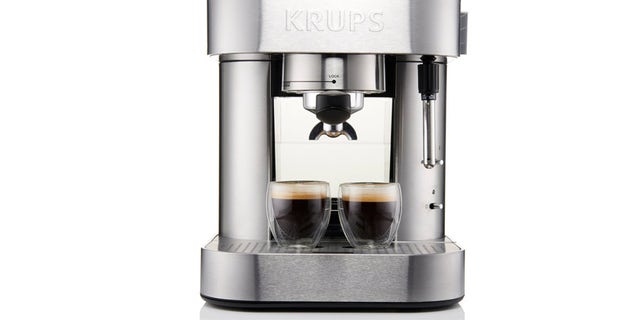 KRUPS pioneered some of the first home espresso machines back in the 1980s, and is still innovating today. One of the company's highest-rated models, the stainless-steel KRUPS XP601050 has sleek lines and an Art Deco feel that will add a touch of sophistication to any kitchen. More than just another pretty face, it has a fifteen-bar Italian pump, three espresso functions and a hyper-efficient frother. The "Thermo Block System" means it has an insulated chamber (instead of a boiler), which results in more even temperatures. The manual pump gives you control over the espresso making process, but you do need to read the instructions first.
The KRUPS XP601050 is compatible with grounds and most pods. It also comes with a scoop, tamper and cup-heating tray, which is usually found in commercial espresso machines. If you are serious about making high-quality espresso, this model won't break the bank and has many of the perks of a pricier machine.
4. De'Longhi EC702 15-Bar-Pump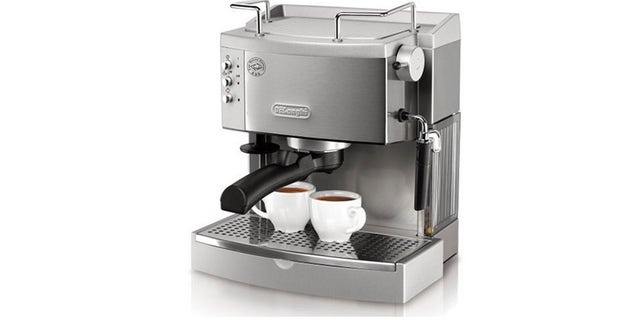 The sleek, Italian-made De'Longhi EC702 is a fantastic buy for any espresso devotee. It stands out from its competitors due to the dual-function filter holder, which gives you the option of using pods or ground coffee. The Sempre Crema Filter, best used with two measures of ground coffee, boosts the brewing process to produce an ideal crema. If you want a straightforward espresso shot, use the E.S.E. (Easy Serving Espresso) Filter, which can be used with pods or one measure of ground coffee. If you are exacting when it comes to temperature, you will appreciate the two individual thermostats, which allow water and steam pressure to be controlled separately.
Other advantages include the 1,100-watt stainless steel boiler (which allows for a quicker warm-up time) and the easy-to-use "Cappuccino System," which comes with a special chamber that mixes steam and milk to frothy perfection.
5. Bialetti Moka Express Stovetop Percolator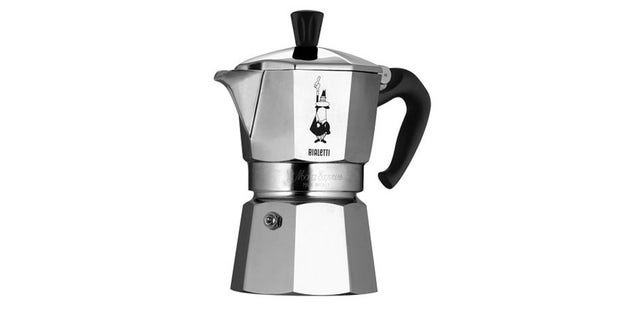 The Bialetti Moka Express Stovetop Percolator is the little espresso maker that could! We grew up with this humble moka maker and its brothers and sisters have seen us through late nights with college papers and even longer hours with colicky babies. Gleaming, big, fancy, café-quality machines are great, but this old-school, humble little model is priceless and keeps on giving year after year. Easy to use and easy to clean, it makes perfect shots with foamy crema; just like that without all the big guns. All it needs is really good espresso grounds that are super fine; anything coarse and it will rebel.
More from Gayot.com