4 Classic Cocktails Made With Eggs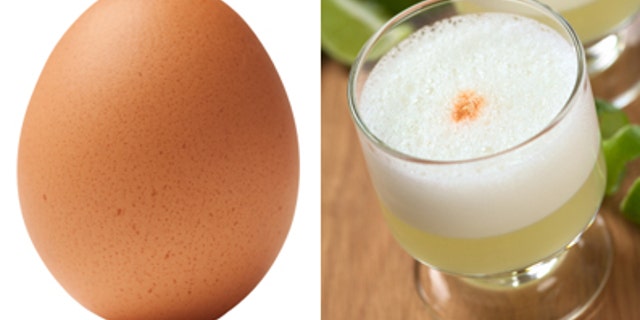 Eggs are generally regarded as one of mankind's most versatile foods. We bake with them, devour them by the dozen for brunch, add them to meatballs and meatloaf and, best of all, we drink them in deliciously boozy cocktails.
Sure, Rocky movies and salmonella scares have given the raw egg a bad name, but in the cocktail world, the egg is loaded with possibilities. Eggs have a long tradition in mixology, providing richness, silky texture, a lovely foamy appearance and, in cocktails using the yolks, delicious eggy flavor. The drinks incorporating them run the gamut from classics devised long before anyone dreamed of cautioning against eating raw cookie dough to a new breed of cocktail using modern mixological techniques to create a tasty new experience.
Eggs, of course, can be separated into two parts – whites and yolks. While whites are often called for on their own to add texture to a drink, as in the newly popular Pisco Sour, yolks are used less often, coming into play around heavier drinks that are better suited for cold winter nights, like eggnog. And while food-borne illness is, obviously, a risk whenever raw ingredients like eggs are used, the risks are comparatively small with fresh ingredients and made even smaller by mixing with strong spirits. In fact, the only real drawback to these cocktails is the fact that you need to emulsify the ingredients – meaning you need to shake or mix them a whole lot harder and longer than you would for a drink with just spirits and more common ingredients.
Obviously, that just means you'll be that much more thirsty when serving up a few of these egg-based concoctions.
Pisco Sour – One of the most popular drinks of the last year, many people don't realize a properly mixed Pisco Sour includes a healthy dose of egg white to create that deliciously smooth texture and pretty layer of foam on top. The pisco the drink gets its name from is a tasty form of brandy from South America with a much headier, more earthy taste and an oddly perfumed aroma that pairs nicely with the citrus and simple syrup that make up the backbone of this drink. It has a complex sweet and tart flavor and a musky undertone that helps make it the most popular way to consume pisco, by far. The frothy layer at the top and the silky smooth mouthfeel, courtesy of egg whites, certainly don't hurt, either. It's a spectacular warm weather drink, but the industrial strength alcohol content certainly doesn't make it a bad thing to have on hand while the weather takes a turn for the chilly either.
3 ounces pisco
1 ounce fresh-squeezed lime juice
3/4 ounce simple syrup (freshly made if at all possible)
1 egg white
1 dash Angostura bitters
Add all the ingredients except the bitters to a shaker and shake as if your life depended on it. It doesn't, but the proteins in the egg white need to be stretched, scrambled and aerated just as in a meringue in order to create the look and feel you're after. Add ice and shake again to chill, then strain into a chilled cocktail glass. If you've done it right, you'll have a layer of foam on top of the glass, which you'll adorn with a dash of bitters for aroma and color.
Colleen Bawn – A flip is one common type of cocktail containing eggs. In the old days ordering one would bring an oversized mug of hot steaming ale with the addition of eggs, sugar, rum and cream to the table. The modern definition of the category is significantly different. Today flips encompass pretty much any cocktail tarted up with a whole egg, but not necessarily with cream. Dating back to 1903, the Colleen Bawn is a reference to an Irish murder case from the 1800s and uses a whole egg to great effect, moderating the harsh mix of rye, green Chartreuse and Benedictine and merging them into a cohesive sweetly herbal mix that seems amply able to cure what ails you – no matter what it might be.
1 1/2 ounces rye whiskey
1 1/2 ounces Benedictine
1 1/2 ounces green Chartreuse
1 very fresh egg
1 teaspoon sugar, to taste
nutmeg and ground cinnamon, for garnish
The Colleen Bawn and other drinks like it are meant to be sipped in company, so the recipe is designed to be split in half for two drinks. To mix up a batch, combine all the ingredients save the spices in a shaker and shake hard to emulsify the egg and truly combine the ingredients. Add ice and then shake again to chill it down – if it's not cold the vapors from the Chartreuse and Benedictine will be a bit more intense than mortal man might prefer. Strain the mixture into chilled cocktail glasses and garnish with ground nutmeg and cinnamon to taste.
The Round Robin – A classic drink made possible once again by the relatively recent return of absinthe to store shelves everywhere, this drink marries the warmth of brandy and the herbal punch of absinthe with the addition of an egg white. Without the silky texture made possible by the egg, this cocktail would be a non-starter. With it, along with a healthy dose of sugar to even out the peaks and valleys of anise and grape, it's a glass well worth raising. The mildly sweet drink is light and airy, with a warm weight and almost feminine touch rarely found in brandy and absinthe cocktails.
1 large egg white
1 ounce absinthe (Corsair Artisan Red Absinthe is a delicious twist in this drink, adding floral hibiscus to the mix)
1 ounce brandy
1 teaspoon simple syrup
1 dash orange bitters
Add all the ingredients to a shaker full of ice and shake hard until beads of water gather on the cup. It'll take about 30 seconds, but the sore arms will be worth it. Strain it into a wine glass and toast to the U.S. Government's decision to once again legalize one of the more powerful and storied spirits ever made.
Coffee Cocktail – Named after coffee solely for how it looks in the glass and not for its flavor, the Coffee Cocktail was included in mixologist Jerry Thomas' original bartender's guide, titled "How To Mix Drinks" and published in 1887. Combining port, Cognac and sugar with a whole egg, the whole is far greater than the sum of its parts. The fruity port and cognac combine with the sugar and egg into a rich gently sweet mix that warms from the inside out, making it an ideal elixir to ward off the impending chill of winter.
1 ounce Cognac or brandy
1 ounce ruby port
1 small egg
1/2 teaspoon sugar
Grated nutmeg
Combine all the ingredients except the nutmeg in a shaker and give it your all to combine them. Then add ice and shake again just enough to chill it down – not to add much water. Strain it into a snifter or wide brimmed wine glass and kick back, warm and cozy and ready to scoff at anyone who dares suggest going out into the cold.