2012's most exciting restaurant openings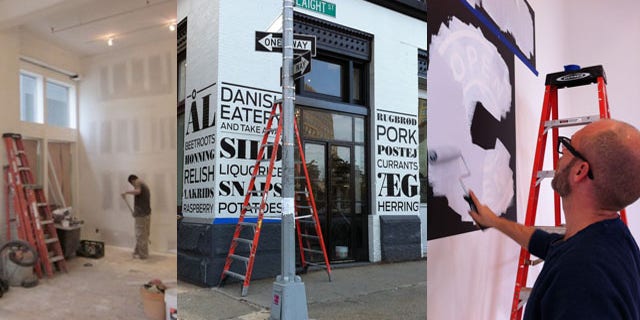 There are a host of variables that combine to make a restaurant's opening hotly anticipated. First and foremost is the chef (and/or owner) — the popularity and reputations of those individuals at the helm can generate buzz around a new venture, or garner bated speculation about it.
Second is location — a restaurant opening in a trendy or up-and-coming neighborhood can foster excitement, as can a restaurant that's opening in a familiar building or landmark.
Third is the hook — this is the "it" factor that piques our general interest, and gets people scrambling to book a reservation before the doors of the restaurant even open — whether it's an innovative dining concept or an acclaimed chef launching a restaurant that features a different cuisine than their signature style.
As 2012 swiftly approaches, culinary enthusiasts have the promise of countless new restaurant openings to look forward to in the upcoming year. So to make things a bit easier to digest, here are a handful of places across the country that we're particularly excited to dine at next year.

The NoMad Hotel Restaurant (New York City)
Daniel Humm and Will Guidara, the powerhouse team behind Eleven Madison Park, are taking on their first solo venture at The NoMad Hotel, which is scheduled to open in the late winter/early spring. The atmosphere at the restaurant will reportedly be more laid-back than the setting at Eleven Madison Park, with a menu featuring rustic, French-inspired fare.
Little Goat (Chicago)
Riding on the coattails of her incredible success in 2011 with Girl & The Goat, Stephanie Izard plans to open her follow-up venture across the street in March or April. Izard took over the former Red Light space in Chicago's West Loop to open Little Goat, a diner-inspired concept where as many ingredients as possible will be made in-house, including the bacon and roasted turkey. (Photo above courtesy of GITK)
Aamanns (Copenhagen, New York City)
The Noma effect ripples through Manhattan next year. Adam Aamann, who pioneered a successful restaurant and takeaway in Copenhagen, is bringing smørrebrød, the Danish open-faced sandwich concept to TriBeCa. There will be pastries, chocolates, coffee, and 100 core smørrebrød recipes, with 12 on the menu any given day. They're seeking a liquor license to serve aquavit. The restaurant was originally scheduled to open this fall, but the most recent updates indicate a January unveiling.
Underbelly (Houston)
Perhaps the biggest news of the year for Houston's restaurant industry was Chris Shepherd announcing that he'd be leaving his post at Catalan to step out on his own. The chef's first solo venture, Underbelly, was scheduled to open in the fall, but will now open as early as mid-January. The restaurant will have an in-house butcher shop and feature meat farmed by Shepherd himself.
The Restaurant at Meadowood Resort (St. Helena, California)
The widely acclaimed Restaurant at Meadowood Resort will close up shop in January and February to undergo a complete renovation, including a full re-haul of food program. The Michelin three-star restaurant will re-open in early March.
Bowery Diner (New York City)
Motorino's chef Mathieu Palombino is opening his version of a diner in January. Belgium-born Palombino will serve classic American fare at The Bowery Diner, but with an elevated touch — for example, this diner features a raw bar. Guests will get to enjoy expertly executed blue-plate specials late into the wee hours of the morning at this joint.

Click here for more restaurants.

More From the The Daily Meal
America's 10 Best New Steakhouses
10 Best Non-Burger Fast-Food Dishes
Who Makes the Best Store Bought Chicken Soup?
10 Ways to Eat Healthy When Eating Out
America's Best Doughnut Shops