15 best stadiums for food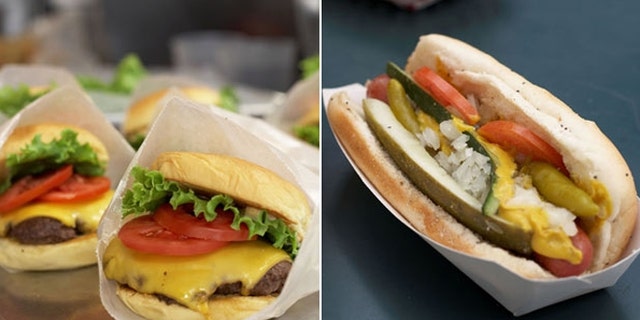 When we think about stadium food, what comes to mind? Lukewarm hot dogs in soggy buns, overcooked burgers, peanuts, and limp fries, right?
And after shelling out loads of cash for tickets, the last thing you want is bland, overpriced food. Who wants to pay $12 for a burger that's been sitting under a heat lamp for hours and was mass-produced and frozen months ago? Add in $8 for a side of soggy fries and you're left wondering why you didn't eat before you got to the game or sneak in a couple of peanut butter and jelly sandwiches.
But while boring stadium food might be the norm, there are some venues out there that rise above the pack. In fact, some stadiums' culinary offerings are so outstanding that some fans prefer the food to the game!
For example, at the United Center in Chicago — home to the Bulls, Blackhawks, and mostly stereotypical arena food — the Budweiser Brew Pub is a diamond in the rough. This restaurant serves a hearty fresh-sliced roast beef sandwich that could stand on its own in any of the Windy City's most popular restaurants.
And while some stadiums have one or two offerings that completely surpass anything else sold there (think of the Lobel's steak sandwich in Yankee Stadium) some simply go above and beyond the call of duty. Citi Field, home of the Mets, has a dining program featuring New York fare from well-regarded restaurants such as Shake Shack, Blue Smoke, and Tai Pan Bakery that perhaps draws almost as many fans to the stadium as the team on the field.
Or at a Reds game at Great American Ballpark, you can splurge on deep-fried Kool-Aid and the Food Network Cincinnati Dog, a jumbo hot dog topped with pork rinds and BBQ sauce served on a potato roll.
And what trip to Lambeau Field would be complete without a trip through the Packers Hall of Fame, a picture in front of Vince Lombardi's statue, and a healthy portion of cheese curds? (As cheese curds are essentially deep-fried butter, healthy in the preceding sentence is of course defined as satisfying.)
Fenway Park, Boston
In addition to the fabled Fenway Frank — which The New York Times noted was still the top-selling product at the ballpark as of 2010 — you can find local favorites like lobster rolls (left) and New England clam chowder during Red Sox games.
Lambeau Field, Green Bay
In addition to normal items like hot dogs, hamburgers, and pizza, the legendary home of the Packers sells Wisconsin delicacies like cheese curds (left) and Cheddar bratwursts. Curly's Pub, a restaurant in Lambeau's atrium, is open all year for tourists visiting the Packers Hall of Fame. If you make the pilgrimage, do not leave without getting super pretzels and beer cheese dip.
Great American Ball Park, Cincinnati
If you find yourself passing through Cincinnati in the summer and the Reds are home, you have to try the deep-fried Kool-Aid. It's important. Other menu items at the ballpark include Sno-Cones, smoked chicken wings, and the fabled Skyline Chili. In previewing the fare before this past season, WCPO discovered the Food Network Cincinnati Dog, a jumbo dog topped with pork rinds and BBQ sauce that is served on a potato roll.
Staples Center, Los Angeles
The home of the Lakers, Clippers, and Kings features traditional standards like McDonald's and California Pizza Kitchen. Looking to eat outside the box? Try the sinful cinnamon and sugar pretzel at Wetzel's Pretzels, the dragon roll special sushi roll at Outtakes, or the chicken and waffles at Chef J's.
AT&T Park, San Francisco
The San Francisco Giants play in a venue with food options as eclectic as those in the city in which they play. Among the many choices, Farmer's Market offers a s'mores sandwich and caramel apple fries, Stormin' Norman's serves lava cake and frybread, California Cookout cooks up Sheboygan brats and portobello mushroom sandwiches, and Gilroy Garlic Fries makes their renowned garlicky fries (left). If you're thirsty, head to the Anchor Taproom in centerfield or Widmer Brew Haus outside section 232 for some draft beer.
Rose Garden, Portland
In addition to featuring more than 70 concession stands inside the arena, the home of the Portland Trail Blazers is also home to the Pyramid Taproom, which serves sockeye salmon fish tacos, three-bean chicken chili, and halibut fish and chips. Thirsty? The Taproom also features an extensive array of the brewery's unfiltered wheat beers and MacTarnahan's fine ales, which have won 34 medals at the Great American Beer Festival.
Cowboys Stadium, Dallas
Jerry Jones' playhouse has more amenities than its 160-foot-wide video board, which was the biggest HDTV in the world until a bigger one was erected at Charlotte Motor Speedway. Dallas' CBS Local recently covered the area's best stadium and arena fare and recommended the BBQ brisket quesadillas, Kobe nacho dog, green chile Kobe burger, pork carnitas tacos, and Frito pie.
Citi Field, Queens, New York
Although the Mets haven't fielded a great team in recent years, the food at Citi Field is top-notch. Much of the best that New York City has to offer is available at the ballpark: in addition to Shake Shack's famous burgers, you can visit the open-air food court in center field and sample the Kansas City spareribs and pulled pork sandwich from Blue Smoke and fare from El Verano Tacqueria, Catch of the Day, Cascarino's, Daruma of Tokyo, Mama's of Corona, Hanover Café, and Tai Pan Bakery. After the stadium revamped its culinary offerings last year, The Daily Meal reviewed some of these delicious options.
See all 15 of the best stadiums for food here
More from The Daily Meal
America's Unhealthiest Fast-Food Items

The World's Smallest Restaurants

America's 12 Best Donut Shops

The Daily Meal's Chefs of the Year 2012