10 lavish athlete parties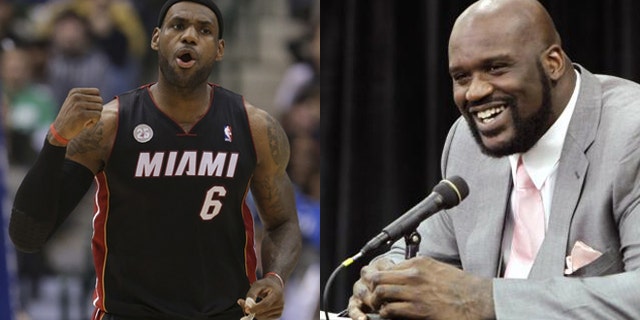 Life is a beautiful thing, so we can live it up and celebrate every now and then.
We go out for one expensive dinner, treat ourselves to one fancy cocktail. But if you are an all-star athlete, celebrations are never few and far between. Whether an Olympian or NBA star, you can be sure to see them taking a break from training to knock back a few, and do it in extravagant style.
The world of sports and spending is nothing new to fans. Recently, ESPN featured a documentary exploiting the world of frivolous sports spending in their 30 for 30 premier of Broke.
For instance, with Curt Schilling's first pay check, he asked to receive it in $20 bills and proceeded to scatter it on his bed before he laid down on it to watch TV. Bernie Kosnar was once paying for 60 cell phone plans at one time. Evander Holyfield dropped serious money to have two bowling alleys put in his mansion.
Though many players have gone broke from excessive spending, todays athletes aren't paying their elders any mind. In addition to grandiose homes and expensive toys, athletes drop thousands on the thrill of a good time. After all, if you became a national champion, how could you not spend $200,000 on your bar tab, like the Miami Heat?
And for your next birthday party, rent a yacht and host a mind blowing party with a celebrity guest list like James Harden. Whether celebrating a birthday, retirement or championship, professional athletes always score big on the partying field.
The Love Boat
When you're an NBA champion and gold medalist at 22 years old, why not ring in your next birth year with two grandiose parties? Thanks to Twitter reporting, James Harden first hosted an '80s themed skate party, complete with themed costumes and gorgeous guests. His second bash was slightly higher scale, featuring an all-white yacht party, complete with with hot shot celebrity guests Eric Maynor, Kevin Durant, J.R. Smith, and possibly P. Diddy. With gallons of Ciroc in a party of movie-like proportions, this yacht bash was surely no small economic feat, though there are no reported figures available.
Party Like a "Baller": If you want to throw a successful Harden-esque all-white party, then avoid faux pas like finger foods, dangerous sauces and dark-colored beverages.
Turning Up the Heat
After the Miami Heat became national champions in 2012, the celebrations promptly began. The team headed to the LIV Nightclub in Miami Beach at around 2:30 a.m. and ended the evening with an estimated $200,000 champagne tab, topping their rivals, the Mavericks, who dropped a mere $147,000 at the same club the previous year. The team enjoyed a performance from the original party rockers, LMFAO, and were serenaded by the rap stylings of teammate LeBron James. Reportedly, all non-NBA attendees were charged a hefty $1,000 cover charge.
Party Like a "Baller": Do you have a taste for champagne, but a beer budget? Don't worry--even if you can't drop $200,000 on enormous bottles of Ace of Spades like the Miami Heat--you can enjoy affordable, fun champagne with your friends at your next celebration.
Let Them Eat Cake
Speaking of LeBron James, the famous partier hosted a 27th birthday bash that resulted in an engagement and a cake controversy. While LeBron planned to propose to his longtime high school sweetheart at the party, behind the scenes a cake war unfurled. Reportedly, Alethea Hickman, the owner of Passion For Pastry, was asked to bake a special artisanal cake for the celebration with the promise of publicity and event tickets in exchange for her services. Hickman quickly discovered that her cake was replaced by a competitor, stiffing her roughly $3,000 of product and labor for her work.
Party Like a "Baller": While you may not have famous local bakers offering to whip you up signature cake, that doesn't mean you can't have one. Wow your guests by learning how to decorate your own cake like a real pro.
An Olympic-sized Celebration
The Germans are not only now the top hockey players in the world--they may be up for top partiers, too. After winning gold in the summer 2012 Olympics, the team took over the German cruise ship "MS Deutschland" for an insane romp of partying. The team is now responsible for paying over €500,000 for post-party damages including everything from broken windows to stained upholstery.
Party like A "Baller": Partying like a rockstar (or major pro athlete) may sound glorious, but often results in major damage control. Keep control of the situation at your next shindig by learning how to deal with damages and keep them from escalating.
Hard to Say Goodbye
In June 2011, the 7'1," 325 lb NBA superstar Shaquille O'Neal ended his 19 seasons with an all-star bash at the Moon in Las Vegas' Palms Casino. Shaq and family dined at Chef Geno Bernardo's restaurant Nove Italiano, and promptly made media appearances before settling in at his VIP table where he and crew sipped on Dom Perignon and Patron all evening. The party was kept spinning by Jersey Shore's DJ Pauly D and a 30-on-mic performance by Shaq himself. While the cost of the event was undisclosed, with a signature caked served up by Caked Las Vegas, appearances by NY Jets' Mark Sanchez and illusionist Criss Angel, and a final performance by DJ Exodus, it was surely no two-bit event.
Party Like a "Baller": Maybe Shaq's baller bash isn't something you can recreate, but you sure could eat like him (provided you work out just as hard).
See all 10 lavish athlete parties here
More from The Daily Meal
Celebrities and Their Favorite Champagne

25 Party Foods Worth Your Attention

A Guide to Glitter

Live Like a Celebrity: Anne Hathaway Edition