There are few things in life more delicious and satisfying than a plate of barbecue. And more often than not, the centerpiece of that plate is a rack of ribs. A glistening, smoky, slow-cooked rib, whether pork or beef, has the potential to be one of the most groan-inducingly good foods in existence, especially when enjoyed with a cold, easy-drinking beer. But who makes the best ribs in America? And what exactly makes a perfect rib?
We reached out to some of the country's most renowned food writers and critics, and assembled a list not only of their favorites, but of ribs that are renowned far and wide for their smoky perfection. The only criterion that we provided these panelists was that their picks needed to be bone-in ribs best eaten with your hands and a pile of napkins.
So while we're certainly fans of Italian-style braised short ribs (famed critic Gael Greene told us that her favorite ribs are the ones at New York City's Il Buco Alimentari), those didn't meet our criteria for this list. Renowned food writer and director of the Southern Foodways Alliance John T. Edge, The Washington Post's Tim Carman, GQ's Alan Richman, the Los Angeles Times' Jonathan Gold, and Esquire's John Mariani all submitted some of their favorites. A couple of panelists also gave us their answer to the question, "What makes the perfect rib?"
So what does make for a perfect rib, according to some of the country's leading experts? Tenderness, sauce-to-meat ratio, smokiness, and good charring.
Tim Carman told us, "For me, barbecue spareribs should not fall off the bone like those ubiquitous braised short ribs you find on every chef-driven menu. Your teeth should be engaged in the eating process with spareribs, forced to lock onto the smoky flesh and gently pull it from the bone. The spareribs should also not arrive at your table smothered in tangy/sweet/spicy sauce. I want to taste the meat and smoke and whatever layer of seasonings the pitmaster has applied to the ribs. Sauces can hide defects in seasoning and smoking."
And John Mariani said, "For me a great rib is never oversmoked, pink under the skin, with good charring on the outside. The sauce is down my list of virtues, preferring a dry rub to do most of the work. The meat may come off the bone easily but not 'fall off,' and there should be some definite chewiness to the meat."
We wholeheartedly agree, so with those parameters in mind, we set off to find the country's 20 best ribs, building on 2011's list and ranking them according to local renown, critical appraisal, and adherence to the criteria set forth by our panel of experts. A word of warning before reading on: You'll be hungry by the time you make your way to number one. And if your favorite place isn't on the list, we also agree with what Alan Richman told us: "In fact, they're all great."
1. Off the Bone, Dallas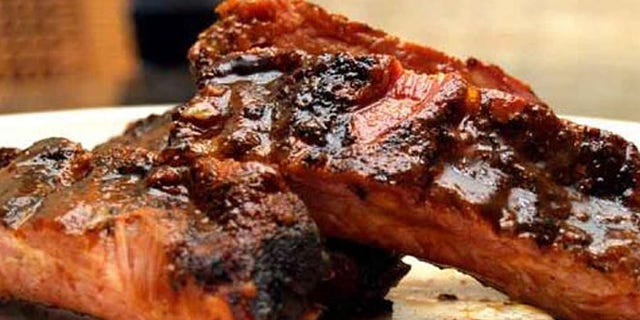 An unassuming spot located on an unassuming street just outside of Dallas, Off the Bone was named the best barbecue in the city by D Magazine in 2010. The pecan-smoked ribs served out of this converted gas station might be considered gourmet by most standards, but that doesn't mean they're not down-home and delicious, especially when you catch a glimpse of them being mopped with sauce by the pitmaster in the back.
2. Cooper's Old Time Pit Bar-B-Que — Llano, Texas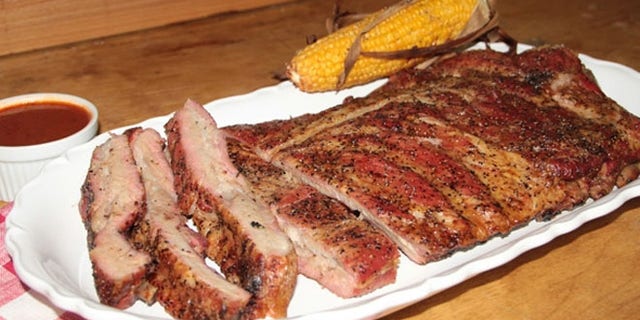 This supremely peppery pork rib breaks a trademark rule of barbecue — it's finished over direct heat — but it's just about impossible not to fall in love with Cooper's ribs. That finishing touch gives it a great char, and you're also allowed to choose your own rack, right off the grill. The folks at Details Magazine also agree that this is one of the country's finest.
3. Bogart's Smokehouse, St. Louis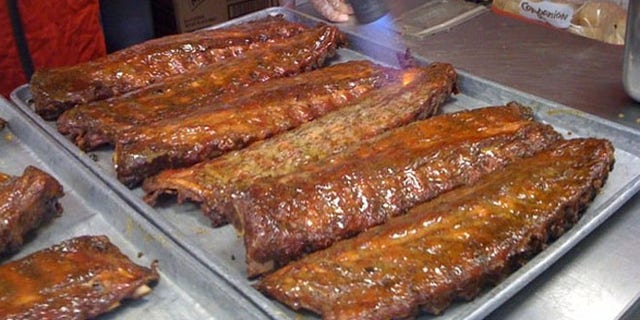 A relative newcomer, Bogart's is helmed by the former pitmaster from a St. Louis institution, Pappy's. The sides here are spectacular, but make sure not to fill up on them because their ribs are the main event. They're sticky and caramelized due to a special treatment that they get after being removed from the grill: they're hit with a blowtorch, a genius move if we ever saw one.
4. Roper's Ribs, St. Louis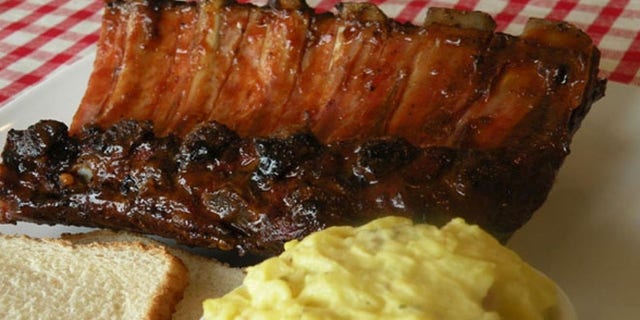 Family-owned since 1976, Roper's St. Louis and baby back ribs are meaty, smoky, and coated in a hearty sweet and spicy sauce that doesn't overpower the meat. It's a tiny, smoky place, so be prepared to take your order to go; you'll be amply rewarded with ribs that are also considered to be among America's best, and Travel + Leisure agrees.
5. Twin Anchors, Chicago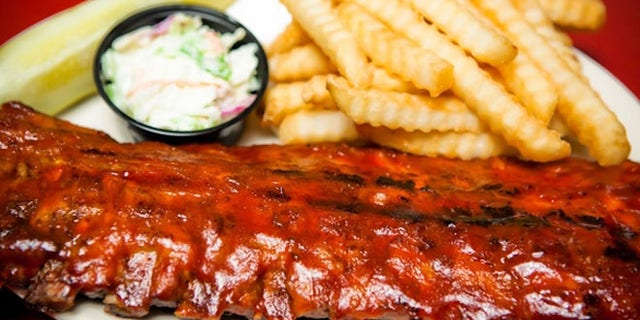 Once a favorite hangout of Frank Sinatra, this Chicago institution opened in 1932 in Chicago's Old Town neighborhood as a Prohibition-era tavern. The ribs are slow-cooked for five hours, finished on the grill, and served to tender perfection. If you find yourself there on a weekend with a wait more than an hour, though, make sure to heed the establishment's golden rule: No dancing.
6. Bludso's, Compton, Calif.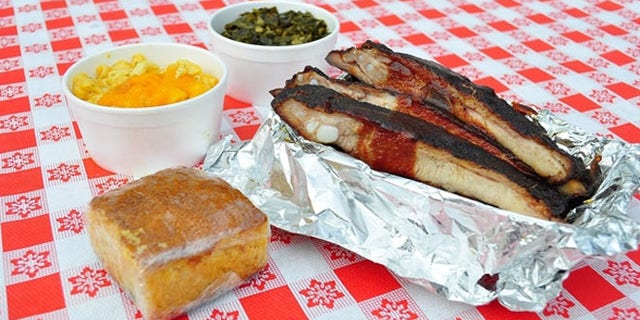 A favorite of the LA Times' Jonathan Gold, this Compton, Calif., restaurant specializes in Texas-style ribs from a recipe handed down by owner Kevin Bludso's great-great-grandfather. The recipes are a well-guarded secret, but the end result is world-class: smoky, sweet, and requiring a little tug to get at. The smoky smell will lure you in from blocks away.
7. Corky's, Memphis, Tenn.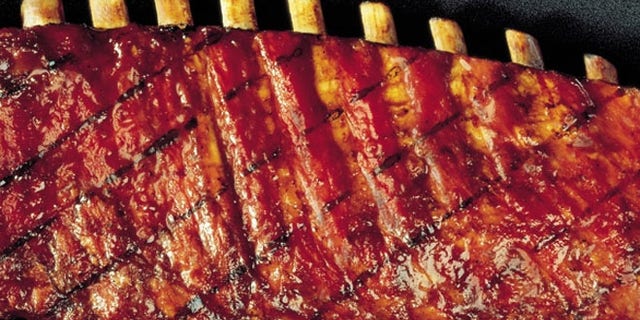 In a city known for its barbecue, Corky's has found its way to the top of the heap thanks to its ribs. Its website describes the lengthy process that its ribs go through to reach the eater: "Born of a unique combination of place, history, and just plain knowing what great ribs and barbecue are supposed to taste like, Corky's unrivaled ribs and authentic, hand-pulled barbecue are meaty, succulent, and falling-off-the-bone-tender. Corky's barbecue is made with old-fashioned Southern tradition — slow-cooked in pits with hickory chips and charcoal, hand-pulled to select only the best, and basted in our special blend of Corky's sauces." If that doesn't make you hungry, we don't know what will.
8. Alamo BBQ, Richmond, Va.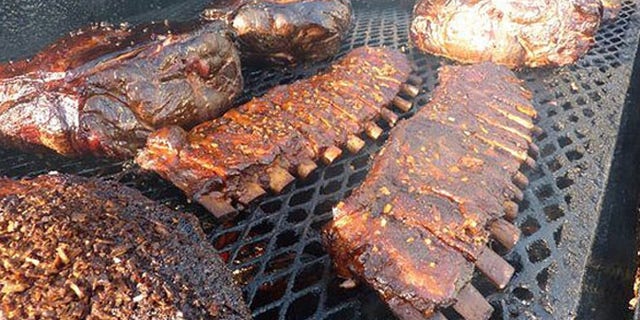 Another suggestion from Carman, Alamo specializes in Texas-style barbecue, as the name implies. Its brisket is the stuff of legend, but the ribs are also world-class. They're smoky, mopped with a stellar but not overpowering barbecue sauce, and are so good that you might just end up ordering a second rack.
9. Franklin Barbecue, Austin, Texas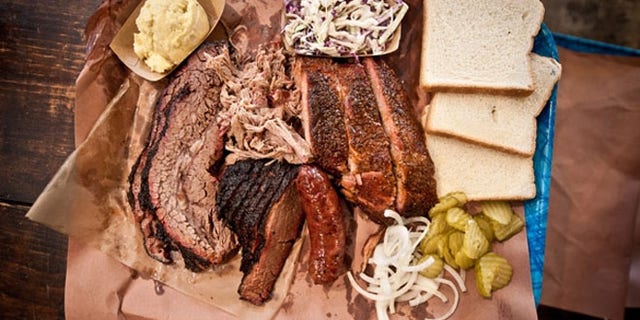 Aaron Franklin must be some kind of sorcerer. What started as a trailer in 2009 quickly became one of the most revered spots in all of 'cuedom, and loyalists and pilgrims all line up outside the newish building's front door for hours on end, every day. No visit is complete without sampling some of the impossibly tender ribs, which are peppery and with a well-caramelized bark. You have your choice of slathering on three sauces (espresso-based, vinegar-based, or a sweeter variety), but as is usually the case with barbecue this good, none is necessary.
10. Smoke, Dallas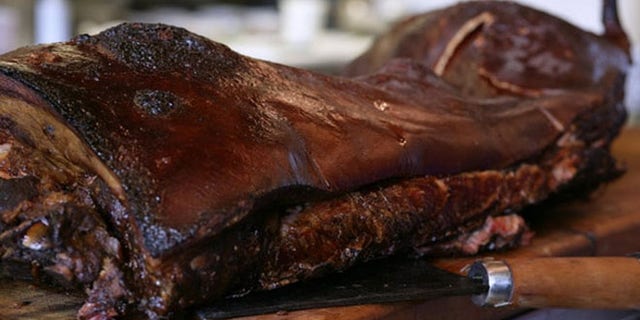 "I dote on the beef ribs at Smoke," Edge told us. "These show great smoke penetration, and the meat has a kind of roundness, a beefiness that recalls the best dry-aged steakhouse stuff." The rest of the country tends to agree. Chef Tim Byres opened this restaurant inside the city's Belmont Hotel in 2009, and while it's not a barbecue joint, per se, even though there are several smoked meats on the menu, his fine-dining approach to the cuisine elevates it above the pack. The giant "big rib" is slow-smoked over oak and hickory until it develops a beautiful crust and is tender but not falling apart. It's served with a chimichurri sauce that provides an extra kick, but it's wholly unnecessary.
See many more ribs at The Daily Meal
More from The Daily Meal
The Ultimate Barbecue Taste-Test
America's Best Chicken Parm Sandwiches