10 best American steakhouses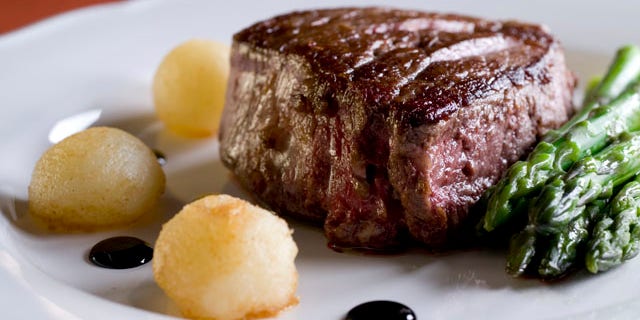 We wouldn't steer you wrong — these top 10 steakhouses remind us that one of the great American culinary genres is getting better with age, just like their steaks. In addition, some of these are now well known for signature dishes that go beyond destination beef — from Emeril's crab croquettes in Louisiana to Wolfgang Puck's bone marrow dumplings in L.A. The iPad wine list at Chicago Cut Steakhouse tells us that these are not your father's steakhouses anymore as they defy stereotype and go beyond expectation. Click here to read complete reviews for each top steakhouse.
Bern's Steak House
1208 S. Howard Ave.
Tampa, FL 33606
813-251-2421
One of Tampa's most opulent restaurants augments its more than 50 variations of stellar dry-aged steaks with 20 choices of caviar and 35-plus desserts — and claims its wine list is the biggest in the world.
Bob's Steak & Chop House
4300 Lemmon Ave.
Dallas, TX 75219
214-528-9446
Don't mess with Texas at this top-notch Dallas steakhouse, where big spenders graze on generous entrées including Prime beef, chops, roast duck and Maryland crab cakes.
Bobo's
1450 Lombard St.
San Francisco, CA 94123
415-441-8880
This sultry San Francisco steakhouse emporium is famous for its butter-tender Prime beef — dry-aged up to six weeks — and a rarely seen bone-in filet mignon.
Carnevino
The Palazzo Resort Hotel Casino
3325 Las Vegas Blvd. S.
Las Vegas, NV 89109
702-789-4141
Mario Batali's deluxe Italian steakhouse at The Palazzo draws on the Tuscan Chianina tradition with its dry-aged beef, but other specialties include house-made salumi, lobster two ways and the star chef's signature pasta dishes.
Chicago Cut Steakhouse
300 N. LaSalle St.
Chicago, IL 60654
312-329-1800
This Chicago mainstay dry-ages its own N.Y. Prime steaks in house and offers an opulent wine list to a posh River North following.
CUT
Beverly Wilshire, a Four Seasons Hotel
9500 Wilshire Blvd.
Beverly Hills, CA 90212
310-276-8500
Wolfgang Puck's star-studded steakhouse in Beverly Hills is a showcase for A-level celebs, financiers and Hollywood elite who flock here for an innovative meat menu and more. Click here for a complete restaurant review of CUT.
Elway's Cherry Creek
2500 E. First Ave.
Denver, CO 80206
303-399-5353
Former Broncos quarterback John Elway's rustic sports-themed steakhouse offers Denver denizens big screens to catch the game, as well as live music, as they tackle massive steaks.
Emeril's Delmonico
1300 St. Charles Ave.
New Orleans, LA 70130
504-525-4937
Emeril's Creole steakhouse is housed in an historic century-old building where locals and tourists mingle amidst an atmosphere of Big Easy glamour and hospitality.
Peter Luger
178 Broadway
Brooklyn, NY 11211
718-387-7400
Since 1887, this Brooklyn institution has been one of the top steakhouse destinations in America. Click here to read a complete restaurant review of Peter Luger.
The Precinct
311 Delta Ave.
Cincinnati, OH 45226
513-321-5454
This swank Cincinnati spot is set in a stylish 1901 police patrol house, where choices run beyond the prime suspects to include creative steak entrées and select wood-grilled fish.
MORE ON GAYOT.com
Find the Best Steakhouses Near You
More Top Steakhouses in the U.S.
Understanding Steak: Beef Cuts 101