Sri Lankan children said they would die for Jesus in Sunday school moments before bomb went off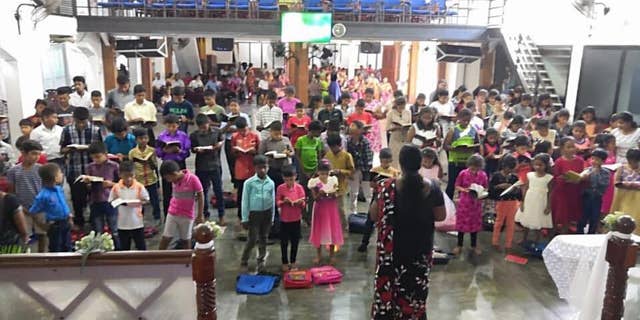 A Sunday school teacher at one of the Sri Lankan churches targeted on Easter Sunday recounts how the children in her class said they were willing to lay down their life for Jesus minutes before many of them instantly died after a radical Islamic terrorist blew himself up.
A quote from Caroline Mahendran, a Sunday School teacher at Zion Church in Batticaloa on the eastern coast of Sri Lanka, was shared by Hananya Naftali, Israeli Prime Minister Benjamin Netanyahu's Social Media Deputy Advisor, on Sunday.
RELIGIOUS FREEDOM EXPERT: GLOBAL WAR ON CHRISTIANS INTENSIFYING
"Today was an Easter Sunday school at the Church and we asked the children how many of you willing to die for Christ? Everyone raised their hands. Minutes later, they came down to the main service and the blast happened. Half of the children died on the spot," Mahendran said.
Naftali, who started sharing on social media to combat "fake news" about the Jewish State, said a local in Batticaloa told him Zion Church prays for Israel every week.
MEDIA DIDN'T CALL SRI LANKA MASSACRE AN ATTACK ON CHRISTIANS. HERE'S WHY A MUSLIM SCHOLAR CALLS IT 'VERY TROUBLING'
He shared "heartbreaking" photos of the Sunday school class worshipping and reports that 22 of the children died in the blast.
"There is an Islamist Extremist war on Christians around the world," Naftali concluded. "They are not going to stop there - we must unite against radicalism!"
CLICK HERE TO GET THE FOX NEWS APP
Zion Church, founded in the 1970s, was one of three churches targeted on Sunday in the suicide bombings that killed over 350 people and injured even more.