Schools find Minecraft-themed books are a good way to teach kids Bible stories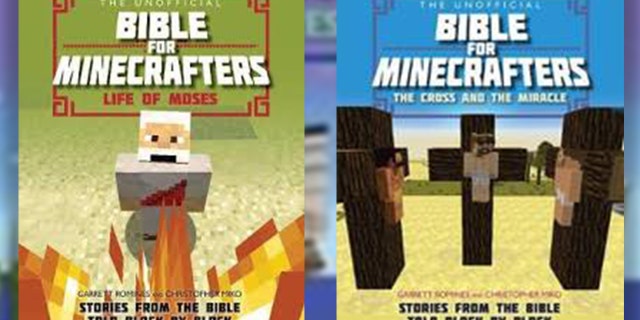 NEWYou can now listen to Fox News articles!
Two dozen schools in the British Isles received donated books, but these weren't the kind that schools usually get.
They were Bible stories interwoven with the popular video game "Minecraft."
The idea was that children might engage more with the Bible if they had a familiar vehicle – in this case, religious stories in a game-themed book -- helping them do it, according to the Bailiwick Express.
In the British Isles, the schools received "The Unofficial Bible for Minecrafters – Stories from the Bible told block by block," which gives children ages 7 through 11 3-D versions of Bible stories such as the Garden of Eden and Noah's Ark.
The Rev. Beverley Sproats of St John's Parish Church said the game-themed religious books made the Bible more "accessible." Her church donated 30 such books to St. John's School.
Francesca Allen, who heads Humanities Faculty at Le Rocquier School, said her school "gratefully received" the donation.
'FORTNITE' AND THE COLLAPSE OF PARENTING
"We were previously having to print extracts from the Bible to support students in their Judaism and Christianity studies," she said, "which meant they never got to grips with how to negotiate a real Bible."
The book that was donated to the 24 schools is one of a series that tells religious stories through a Minecraft approach. Other books in the series include, "The Story of Moses, A Children's Guide to the Old and New Testament, Life of Jesus, and Heroes and Villains."
The schools in Europe have a lot of company when it comes to using Minecraft to connect children to the Bible.
"Because Minecraft is so open, any player can design a world," said Vincent Gonzalez, a scholar who has examined Christian video games, to USA Today in an interview last year. "And whenever things are open, religious people tend to use it to express themselves."
Professor Rachel Wagner of Ithaca College sees parallels between video games and religion. Both, she noted to USA Today, have rituals, rules and structure.
"Even if they are 'open' in the sense of allowing players to construct entire worlds for themselves, as Minecraft does, games always offer spaces in which things make sense, where players have purpose and control," Wagner added. "For players who may feel that the real world is spinning out of control, games can offer a comforting sense of predictability. They can replace God for some in their ability to promise an ordered world."
On a broader scale, educators are finding Minecraft an effective way to teach other subjects.
"We first heard from kids themselves about Minecraft, and we started watching a lot of YouTube videos to see what the buzz was about," said Debra Dorfman, Scholastic's vice president and publisher for licensing, to The Associated Press a few years ago.
CLICK HERE TO GET THE FOX NEWS APP
"Kids, parents and teachers were all saying Minecraft was good for you. Kids are given free rein to play, build and watch YouTube videos of other people playing. Teachers were talking about the educational aspects of creative thinking, geometry, geology and problem solving so parents were agreeing to let them play for hours at a time."
"Minecraft" is set in a procedurally generated blocky world whose trees, terrain and bodies of water can be mined for resources to build things like shelters, tools and armor to protect players from the zombies, skeletons and creepers who come out at night. The calculatedly simple mix of survival gameplay and Lego-like digital construction has captured the imagination of players who've recreated landmarks like Walt Disney World, the White House and Westeros from "Game of Thrones" across the game's sprawling virtual landscape.
The Associated Press contributed to this report.