UFC's Andrea Lee defends husband's swastika tattoo: He got it in prison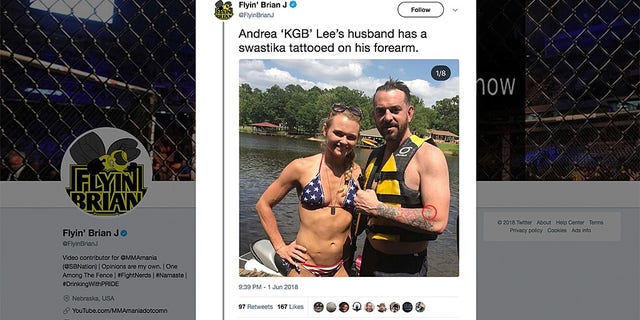 NEWYou can now listen to Fox News articles!
The husband of UFC star Andrea Lee has come under fire after a photo of him emerged on social media exposing his swastika tattoo.
Lee posted a snap of the pair together at a lake, and the Twittersphere quickly noticed the pro-Nazi ink on Donny Aaron's left arm.
On Saturday, Aaron also addressed the controversy, calling his tattoo a "20-year-old mistake" in a tweet. He also said his ink doesn't define him and if it was possible, he would get it removed.
There were also suggestions Aaron had a double lighting bolt — the symbol of the SS, the Nazi military force — tattooed on his right arm.
Unsurprisingly, Aaron and Lee got heat on social media.
Lee is the No. 12-ranked flyweight contender and has a 9-2 record. She is a former flyweight champion in MMA promotion LFA.
Her last fight was a unanimous points decision win over Veronica Macedo at a UFC Fight Night on May 19.