Pink's 1-year-old son Jameson gets hand-foot-and-mouth disease while on tour with his mom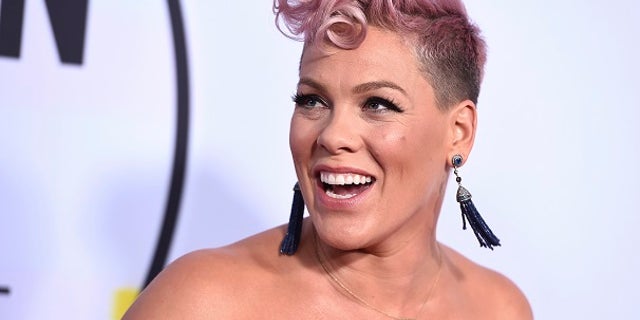 Not-so-glamorous life!
Pink may be traveling the globe with her adorable family, but that doesn't mean they're necessarily always having a blast. The 38-year-old singer's husband, Carey Hart, took to Instagram on Tuesday to share a photo of the couple's 1-year-old son, Jameson, covered in a scary rash.
"Wanna know how glamorous tour can be?" Hart captioned the image. "Jameson has hand, foot, and mouth; and Willow has a 102 temp. Both kids laid up and mama @pink still has to push through and do shows."
Pink Stops Concert to Hug Teenage Girl Who Just Lost Her Mom
The 43-year-old former BMX rider then called out a woman for judging his son. "I had Jameson at breakfast yesterday and this vile woman at the table next to us kept staring at him with a s---ty look on her face. I told her it was bed bugs. #NoRestForTheWicked #LifeInHotels."
According to the Mayo Clinic, hand-foot-and-mouth disease is a "mild, contagious viral infection common in young children." Symptoms include sores in the mouth and a rash on the hands and feet.
Pink Returns to the Stage After Hospitalization With Support from Katy Perry and Hugh Jackman
Pink retweeted her husband's message with a frown face emoji.
While she's often outspoken about her personal life, that was the only mention made so far of her kids' sicknesses. Pink instead opted to post a series of photos to Instagram of her family looking happy and healthy.
Pink Snaps a Selfie With Daughter Willow Ahead of Her Return to the Stage Following Hospitalization
The pics, captioned "#tourlife," feature herself, Hart, Jameson, and their 7-year-old daughter, Willow, in Australia.
Fevers and rashes haven't been the only obstacle for the family this summer. Earlier this month, the pop star had to cancel her show in Sydney, Australia, after she was hospitalized for a gastric virus. She has since returned to the stage to continue her Beautiful Trauma world tour.