Michael Jordan Hit with Paternity Lawsuit as He and Fiancee Choose Wedding Date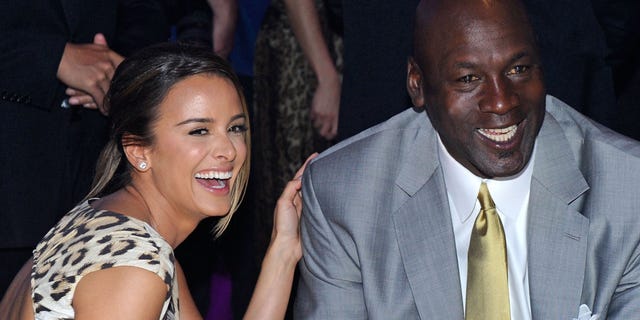 Michael Jordan may be deemed one of the best basketball players of all time, but a Georgia woman said he won't be winning any Dad of the Year awards anytime soon.
Pamela Smith claims the former Chicago Bulls star is the father of her 16-year-old son, Taj, TMZ is reporting.
Smith filed a paternity lawsuit on Feb. 6, the same day that news broke that Jordan and his Cuban fiancée have chosen April 27th as their wedding date. The lawsuit, filed in Fulton County, Ga., claims Smith became pregnant with Jordan's baby back in 1995.
Smith allegedly gave birth in June of the following year to Grant Pierce Jay Jordan Reynolds, known as Taj Jordan. At the time Taj was born, Jordan was still married to ex wife Juanita Vanoy.
Smith is now demanding that Jordan take a paternity test and pay child support and her son's medical bills. She also wants the judge to make "Jordan" Taj's legal last name.
The teenager has taken to Twitter, YouTube and Instagram to let the world know his feelings about his father.
"If you've been hearing rumors that I am Michael Jordan's son… it's true," Taj Jordan said in a video posted on YouTube.
"The reason I am making this video is because I feel like you guys should know, and I feel like he should be more in my life about it."
Aside from the paternity lawsuit, Jordan also made news recently after he purchased a $2.8 million, 12,310-square-foot mansion in North Carolina, as first reported by the Charlotte Observer.
MJ's other properties include a second mansion in Illinois, Utah and the Florida home he shares with Prieto, whom he got engaged to back in December of 2011.
This will be Jordan's second marriage. Jordan, who acquired ownership of the Bobcats in 2010, married Juanita Vanoy in September 1989, and they divorced in 2006. They have two sons, Jeffrey Michael and Marcus James, and a daughter, Jasmine.
Prieto, who was born in Cuba, is a longtime model who once dated Julio Iglesias Jr. In a cover story in the Spanish-language magazine Hola! in 2003, Iglesias gushed that besides her beauty "which jumps out at you, it is her humbleness… I'm happy when I'm at her side."
Follow us on twitter.com/foxnewslatino
Like us at facebook.com/foxnewslatino