Meghan Markle, Prince Harry-themed memorabilia is taking over the streets of London and Windsor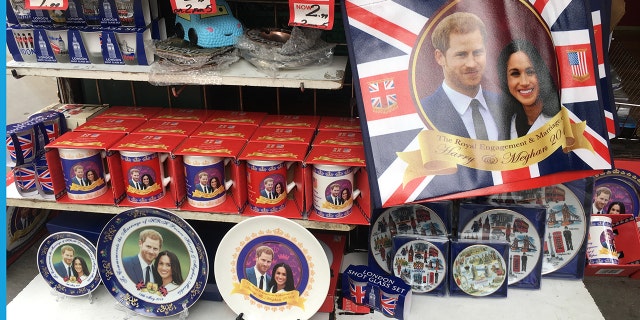 WINDSOR, England – Meghan Markle is everywhere.
From the moment you arrive at London's Heathrow Airport, gifts and trinkets with the "Suits" star's face are on display, as excitement for her upcoming wedding to Prince Harry grows in the days leading up to Saturday's grand affair.
The wedding will take place at St. George's Chapel in Windsor Castle, about an hour outside of London, but you don't have to look far to find wedding-themed odds and ends.
In Heathrow, keychains, towels and mugs that feature the actress and her royal fiancé are all for sale alongside standard travel items.
At The Queen's Gallery, a gift shop at Buckingham Palace, commemorative china, shot glasses and champagne bottles adorned with Harry and Meghan's monogram are all available. The merchandise, however, does not come cheap. A shot glass will set you back about $25 and a pillbox costs about $47. There's even a replica of the engagement ring Harry proposed with for sale. And fans of the royal family are eating it up.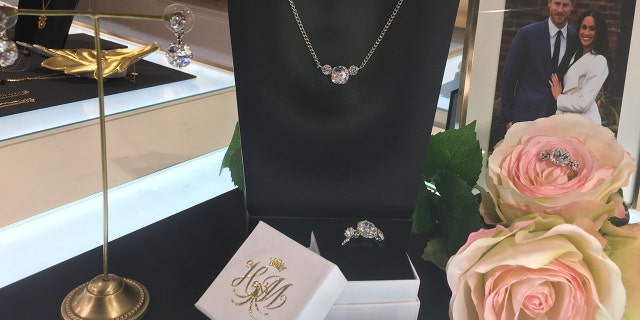 Joanne Farr, who is in town for the wedding from Australia, purchased a tea towel, chocolates, a mug, a bandana for her dog and a replica of Markle's ring. Her husband, Joe, told Fox News the pair couldn't resist making the trip to England for the royal wedding.
"I've never been to Europe before," he said. "This got me to come sooner than expected. This is just a once-in-a-lifetime deal."
Linda Hunter and her longtime friend Chris Dorington were also loading up on merchandise to celebrate their trip to London for the royal wedding.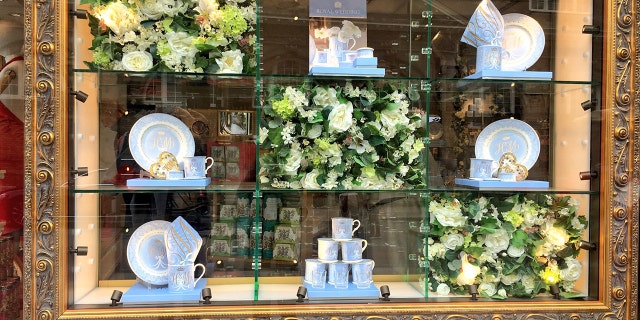 EVERYTHING YOU NEED TO KNOW ABOUT THE ROYAL WEDDING
"I've got my Harry and Meghan mug and… I want more Meghan and Harry stuff," Hunter said as she piled items into her shopping basket.
Hunter, from Los Angeles, and Dorington, from Toronto, decided to meet in London for the wedding. They booked their tickets as soon as Kensington Palace announced the couple's wedding date.
On the streets of London, newspaper stands are decorated with flags featuring Harry and Markle. Magnets, postcards, plates and flags of all sizes are for sale.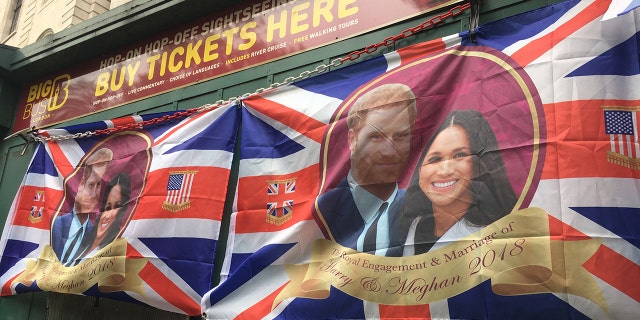 At the famously high-end store Harrods, a large display celebrating the royals stands at the center of the store's second floor gift shop. Three different types of tote bags are for sale, all with Meghan and Harry's names and their wedding date printed on them.
In Windsor, where the wedding will take place, even more royal wedding-themed memorabilia can be found. Nearly every shop near Windsor Castle is decorated in some way with well-wishes for Markle and Harry, and large U.K. flags line the pedestrian streets surrounding the area.
Royal family bobblehead dolls, flags, hats and party masks with Markle and Harry's faces are also available. Most souvenir shops are bustling with tourists, eager to gather up all the commemorative items celebrating Harry and Markle.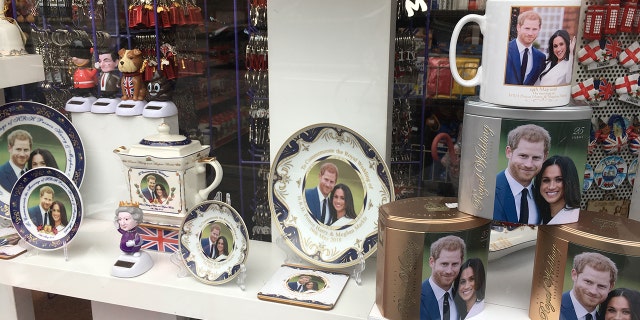 The party masks have been a big seller for A.P. Souvenir and Gifts.
"Loads of people [are buying them]," a clerk at the crowded shop told Fox News. "They're selling like hot cakes."