Madonna Still Wants to Adopt Malawian Child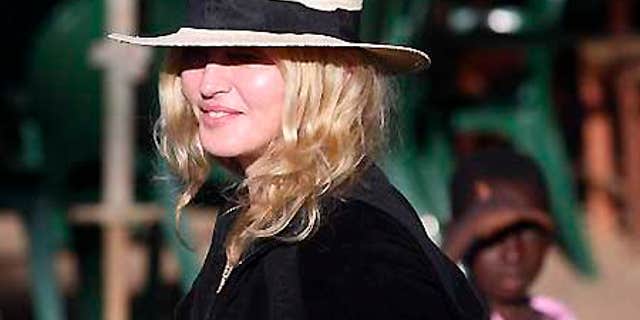 BLANTYRE, Malawi – Madonna has told a newspaper in Malawi that she still wants to adopt a girl from the poor African nation despite legal obstacles, to educate her and empower her to help people in her country.
The pop star told The Nation that she would appeal against a court ruling that she wasn't eligible to adopt a 3-year-old orphan, Chifundo "Mercy" James, because she hasn't lived in Malawi.
"I want to provide Mercy with a home, a loving family environment and the best education and health care possible," she said in an e-mailed response to questions from the newspaper.
"And it's my hope that she, like David, will one day return to Malawi and help the people of their country," Madonna told the Nation on Sunday.
PHOTOS: Click here for photos of Madonna in Malawi.
On Monday, Madonna's office confirmed the interview and the quotes.
Madonna spotted both David and Mercy in an orphanage in 2006. She was able to leave the country immediately with David and the adoption is now final.
But her plans to take Mercy with her last month foundered when Judge Esme Chombo said Madonna did not meet Malawi's strict definition of "resident." Noting that Madonna had last visited Malawi in 2008, the judge said the pop star "jetted into the country during the weekend just days prior to the hearing of this application."
RELATED: Are Celebrities Overlooking American Children?
Malawi requires prospective parents to live in the country for 18 to 24 months while child welfare authorities assess their suitability — a rule that was bent when Madonna was allowed to take David to London in 2006. Madonna has two other children, Lourdes, 12, and Rocco, 8.
No date has been set for a court hearing to appeal the judge's ruling.
Madonna said she could not say anything else before the ruling, but thanked her friends in Malawi and around the world for their support.
Madonna runs a charity, Raising Malawi, to help feed, educate and provide medical care for some of the country's more than 1 million orphans, half of whom have lost parents to AIDS.