Lindsay Lohan Photographed Injecting Syringe, Kissing Paris Hilton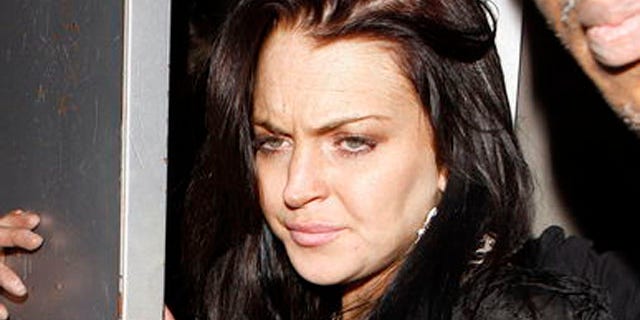 Crouching in a dark corner, Lindsay Lohan is poised to inject herself with what appears to be a syringe of heroin.
The shocking picture shows the troubled Mean Girls star wrapping a tourniquet around her lower arm - the method addicts use to raise a vein.
Her right hand hovers the needle over the skin of her left arm.
In other exclusive images, apparently taken at a sleazy Hollywood bash, she snuggles up to party pal Paris Hilton before sharing a passionate kiss with her fellow wild child.
The horrifying revelations will compound fears about the extent of LiLo's breakdown -- as she was returned to jail this week for a third time. Lohan, 24, was released Friday following her 15 hours behind bars after posting $300,000 bail.
This was a result of her failing a court-ordered drugs test for cocaine, which was in breach of her probation stemming from a 2007 conviction for drink-driving and cocaine possession.
This is the first time there has been evidence that Lohan may have been dabbling in harder drugs like heroin, which is commonly injected.
Go to Newsoftheworld.com to see the photos of Lindsay Lohan.