Jennifer Lopez flaunts killer mother-of-two abs during Brazil concert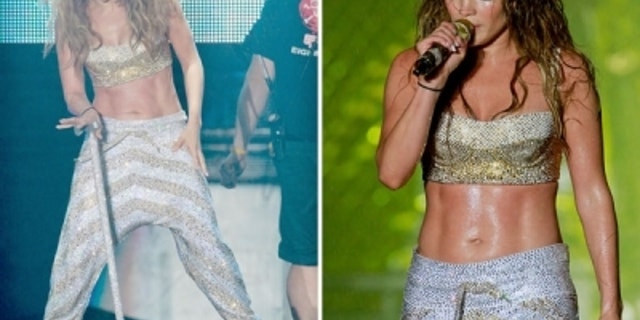 That's one hot mama!
Jennifer Lopez hit the stage in pouring rain in Recife, Brazil, in the last South American show of her Dance Again world tour.
Wearing a sparkly crop top and sequined harem pants, the "One The Floor" singer flaunted her sexy six-pack abs during the concert. And despite the heavy downpour, a smiling J.Lo kept the show going — even jokingly taking shelter underneath a teeny-tiny umbrella.
Click through our gallery to see Lopez rocking out.
Following the final gig, she tweeted, "Unforgettable night in Recife to end our SA tour!" before heading back to the States.
When Lopez landed back in New York City, Marc Anthony was waiting to greet their 4-year-old twins, Max and Emme. Not only did Anthony warmly greet his ex-wife, he showed love for her 25-year-old boytoy, Casper Smart, with an embrace.
Even though J.Lo has moved on to a new man, it seems Anthony holds no grudges.
The exes — separated in July 2011 after being married for 7 years— have kept their divorce fairly drama-free since splitting almost a year ago. And their professional relationship has only prospered; they co-produced and appeared on the reality show "Q'Viva! The Chosen" together, and even took the stage side-by-side in Las Vegas earlier this year.