Guns N' Roses' Axl Rose storms set during stand-in for AC/DC star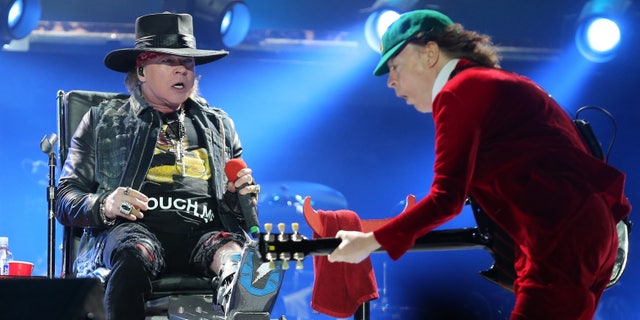 It was crock 'n' roll for Axl Rose on Saturday as he joined AC/DC on stage in a chair due to his broken foot.
The Guns N' Roses frontman, 54, was drafted in by the band for the final stage of their Rock or Bust tour to replace Brian Johnson on lead vocals.
But the move has prompted thousands of fans to demand a refund.
However, Rose's performance, which saw him power through classic tracks like Sin City and Hells Bells, proved to be a hit with Lisbon concert-goers.
Johnson, 68, said he was "crushed" after pulling out of the tour due to hearing difficulties early this year, with many regarding him as irreplaceable.
But Rose, lead Guns 'N Roses vocalist since 1985, is not without injury himself, having broken his foot before cryptically tweeting, "This is what can happen when you do something you haven't done in nearly over 23 years."
And despite having to sit on stage during the performance, music mag Rolling Stone called the union 'potentially one of the touring hits of the summer.'
AC/DC will perform at the Olympic Stadium, London on 4 June and the Etihad Stadium, Manchester on 9 June.
This article originally appeared in The Sun.