'America's Got Talent' finale viewers spot awkward moment between Tyra Banks and Vicki Barbolak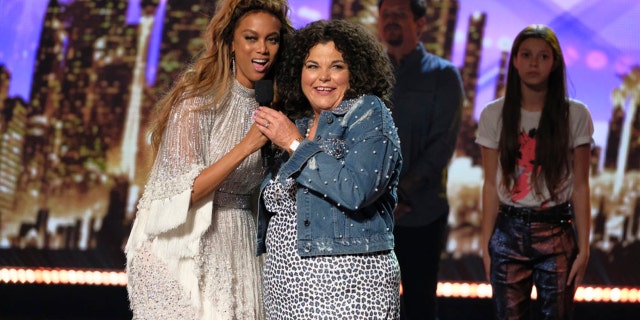 "America's Got Talent" Season 13 came to an end last night, crowning magician Shin Lim as the winner. However, some fans were much more interested in host Tyra Banks' odd interaction with finalist Vicki Barbolak.
The 60-year-old comedian stood with the "America's Next Top Model" judge as she was being voted out of the finale. Despite the sad moment, the duo were all smiles as Banks became a little overzealous and got very close to Barbolak onstage.
In a video captured by a Twitter user, Banks can be seen holding a microphone and moving closer and closer to the comedian's face as she hypes up what "America's Got Talent" has done for her. Before things could get any more awkward, Barbolak simply moved her face and took the microphone to address the crowd.
Still, that didn't stop some from taking notice on social media noting that it looked like the host wanted to either kiss or lick the "AGT" contestant.
"Can we talk about how close Tyra got to Vicki," one user wrote alongside a photo of Banks at her closest.
"Umm why @tyrabanks all up in Vicki's business like she know the flavor," another joked.
While a handful of fans had some fun with the awkward moment in question, the main focus of the evening was on Shin Lim, who not only won the coveted title of "America's Got Talent" winner, but will receive $1 million and a headliner position at an "AGT" residency in Las Vegas this November.