American Idol: Jennifer Lopez Finds Faith in Ramiro Garcia & Kristine Osorio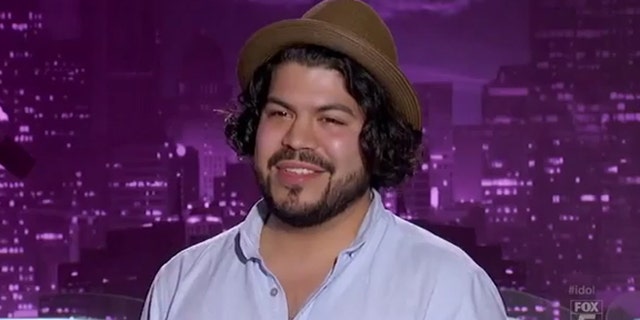 Jennifer Lopez might have found a miracle voice with worship leader Ramiro Garcia as he left her searching for words Thursday night on American Idol.
The Houston native told Lopez and her fellow judges his survival story and then sang "Amazing Grace" leaving the judges in awe.
"I wasn't born normal. I came out a bit different. I came out with no ears," said a somber Garcia. "I had nothing in my left ear and on the right I just had like an ear lobe."
"I guess we're taking a leap of faith with you today," Lopez told Garcia, almost in tears.
Garcia, 28, told Lopez, music producer Randy Jackson and rocker star Steven Tyler that the doctors told his parents when he was born that he would be mute, without the ability to hear or speak.
Still, he says he defied the odds "through time and faith."
Stars Shine for Plácido Domingo
"At age four I started having surgeries," Garcia continued.
"They actually had to create an ear canal. Through there they were able to discover that I had an ear drum and that there would be possibilities that I would be able to hear."
"I remember every year having to go back for another surgery and another surgery," he added. "It was pretty intense.
Tyler was very impressed.
"I like what I'm hearing," an inspired Tyler told Garcia. "You are a power of example to say the least and you can sing. I'm happy."
Jackson told Garcia he woke up something inside of him.
"I'm hopeful man," said Jackson.
American Idol's Pia Toscano Sexy Style
Upon seeing the golden 'Hollywood' ticket in Garcia's hand, his family broke down in tears.
"He sings on another level different to this world," said Garcia's father. His mother told American Idol host Ryan Seacrest "It's a big deal for us."
"This Hollywood ticket is for my family," Garcia said triumphantly. "Here is the proof now that I can make it and I can fight through and be a part of this thing."
Like Garcia, another Latino, Kristine Osorio, also touched Lopez with her singing and her story.
The struggling 28-year-old mother of three was recently going through a divorce and serious financial hardship. But, she decided to chase her dream to give her children and herself a better life.
American Idol's Best Latino Moments
"I took out a loan and instead of paying for my divorce I bought a plane ticket to come to American Idol," Osorio said.
JLO admired Osorio's perseverance.
"[It's] a new beginning," Lopez told Osorio smiling.
Lopez looked up and mouthed the words "thank God" when Osorio stated singing.
"I love that break in her voice," Lopez told Jackson and Tyler who in agreement sent her to Hollywood.
You can reach Alexandra Gratereaux at: Alexandra.Gratereaux@foxnewslatino.com or via Twitter: @GalexLatino
Follow us on twitter.com/foxnewslatino
Like us at facebook.com/foxnewslatino