Workhorse W-15 electric pickup looks to take on Tesla and Ford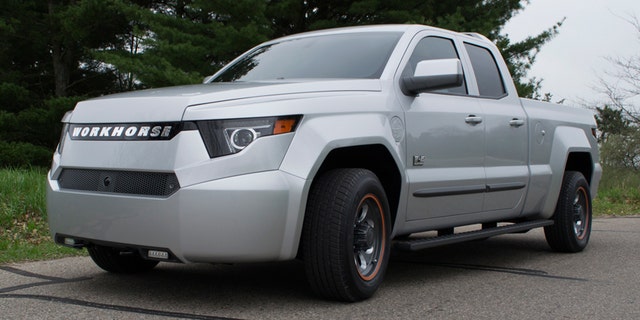 NEWYou can now listen to Fox News articles!
Tesla plans to build an electric pickup a few years from now, while Ford will start selling a hybrid F-150 in 2020.
They'll both have competition when they do.
Commercial truckmaker Workhorse has unveiled a plug-in hybrid pickup that goes on sale in late 2018. The company currently specializes in hybrid and electric step vans, but built an all-new custom chassis for its first pickup offering, the W-15, which has a sci fi movie-style composite and carbon fiber body riding on a traditional steel frame.
Between the rails is a powertrain comprised of a 45 kilowatt battery pack with Panasonic cells that drives a BorgWarner electric motor at each axle to create a combined 460 hp all-wheel-drive system. The full-size crew cab can tow up to 5,000 pounds and carry a 2,200-pound payload capacity, both roughly comparable to a strong V6 truck. An outlet built into the bedside can provide on site power for tools directly from the battery.
The electric range is 80 miles per four- to five-hour charge, but there's also a gasoline engine onboard that works as a generator for longer trips. Workhorse's hybrid vans, which are typically used for local routes, have a two-cylinder BMW engine for this purpose, but company CEO Steve Burns says the pickup will feature a more robust three-cylinder so it's not compromised during highway driving. He hasn't yet announced what brand is supplying the engine, but BMW makes a three-cylinder that could be up to the task, as does Ford.
Much like a dual motor Tesla Model X SUV, Burns expects the instant electric torque and traction to make it one of the quickest trucks around, with a 0-60 mph time under 5.5 seconds. The low center of gravity provided by the batteries and its four-wheel independent suspension also promise relatively excellent handling, according to Burns.
TOYOTA'S ELECTRIC SEMI IS QUICK AS LIGHTNING:
The truck's clean, modern interior design includes a digital instrument cluster and a touchscreen on the dashboard that handles most functions and reduces the number of buttons and knobs on the dashboard and steering wheel to just five. The orange trim of the show truck may be toned down for the production version.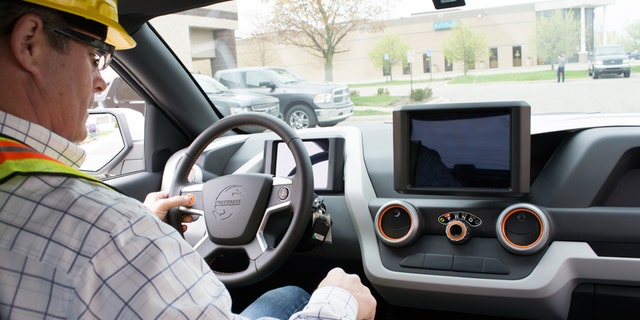 The lack of a large internal combustion engine means there's space for a large front trunk, along with a substantial crumple zone that should help it perform well on federal crash tests. Only one trim level will be offered and come standard with automatic emergency braking and lane keeping assist systems for $52,500.
NIKOLA HYDROGEN-POWERED SEMI REVEALED
Workhorse is primarily targeting commercial customers and already has 2,000 pre-orders, but Burns says consumer sales are possible in the future once a large enough distribution and service network is in place. The company's Loveland, Ohio, factory has the capacity to build up to 60,000 trucks annually, and it will be marketing the trucks through a partnership with Ryder.
With a MPG equivalent of 75 mpg in electric mode, and a combined fuel economy rating of around 30 mpg when the engine is running, Burns says the operational savings over seven to eight years, plus the available green car taxi incentives, should more than offset the added cost over a conventional pickup for many fleet buyers.