Why NASCAR champion Jimmie Johnson is driven to give back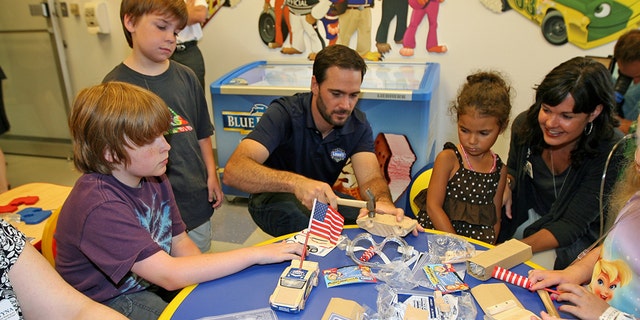 Jimmie Johnson is on the verge of NASCAR immortality, with an unprecedented eighth championship well within his reach this year.
Few athletes in any sport have achieved his level of success and fame, but the son of a school bus driver hasn't forgotten where he came from, or the fans that have supported him along the way.
The 41-year-old and his wife, Chandra, established the Jimmie Johnson Foundation in 2006. The non-profit has so far donated nearly $10 million to various philanthropic efforts that include Habitat for Humanity, the Ronald McDonald House, and improving public education for kids in Johnson's native California, his wife's home state of Oklahoma, and their adopted home in North Carolina, the heart of NASCAR nation.
Johnson recently took time out from race preparation to talk to FoxNews.com about this life-changing work.
FoxNews.com: When you were a kid, did you ever see yourself winning so many races and championships?
Jimmie Johnson: I dreamed of being a champion, growing up in racing. That's the ultimate prize, you recognize race wins but I remember seeing champions and saying, "That's the biggest thing ever."
My heroes were on two wheels and the dirt. I didn't know anything about asphalt racing up until I was 18 or 19. I started racing at five but up until then it was all on dirt and two wheels.
Fox: What's one thing most people don't know about you?
JJ: The one thing I have fought consistently through my career is the notion I came from a family with money. I was very fortunate to get noticed by Chevrolet at a young age and they placed me with teams and off it went.
My mom drove a school bus and my dad drove a tractor. It was pretty darn basic but people forget or overlook it, or some people just don't want to believe it.
Fox: When you reflect on moments in time that make you feel particularly proud to be an American, what are they?
JJ: Growing up in Southern California, there's lots of military, and growing up around it through a lot of different angles I've always been aware and appreciate what it takes to keep our country the amazing country it is.
Both of my grandfathers served, my dad went to boot camp for the Vietnam War, but then it ended. Understanding our freedom and having family members who served helped put that in my mind.
Our pre-race festivities, we always do such an amazing job in saying thank you and in honoring the men and women who serve our country.
A very emotional thing that happens occasionally at the track, the Honor and Remember group brings families to racetracks and introduces them at the drivers' meeting. I always thank the men and women for their service, but to have a family member there who's lost a loved one is one of most emotional experiences I've experienced.
In Richmond last year, one of the family members was wearing a 48 hat [Johnson's car number], and I had to go spend time with them. Certainly the most emotional would be that.
The most prideful is the Daytona 500 and some of the massive events we have. There's hundreds of thousands of people around and there's dead silence when the national anthem's being played.
Fox: How did you get started with the foundation?
JJ: I participated in Habitat [for Humanity] builds, I would do fundraisers for my school, I was compelled to give back.
When my career started and I raced off-road buggies in stadiums around the country we'd go to children's hospitals and give out stickers, hats, and autograph cards and I could see the difference in people's lives and it reinforced the notion of giving back.
When I had a year or two racing in Cup under my belt, supporting various charities, Kyle Petty sat me and my wife down and said, "If really want to make an impact and you have sponsors and a fan base that support you, you should start a foundation." Then we started our non-profit.
Fox: Why did you and your wife decide to focus so much of your foundation's activities on education?
JJ: We realize education is so vital and public education is suffering so badly and we wanted to pull it down to areas where we grew up and where we live because we knew we could make a big difference. We didn't just want to put a little in a lot of areas, and not move the needle. We were really strategic about the three areas and have absolutely helped the families, the children, the teachers, and the schools [in the San Diego area, Muskogee, Okla., and Charlotte.[
Fox: What areas within education are you supporting?
JJ: I clearly have a desire to support physical education, I know how important that is, my wife has a gallery and wants to support the arts. There are many things we participate in, but we always have a soft spot for those areas, they need it because they're disappearing.
From seeing the world through my mom's eyes as a bus driver, and understanding the school system, there's a lot of people that are underpaid that genuinely care about children and do an amazing job, and do so on shoestring budget.
Fox: One of your foundation's initiatives is a $48,000 technology makeover for a school. How did you start that?
JJ: The opportunities we have with corporate sponsors and also the huge push for STEM and STEAM -- it's where our education is heading. We've focused on that area as well, tried to utilize resources and funds that we generate to do something cool there.