VW's Single Seat 'Person's Car'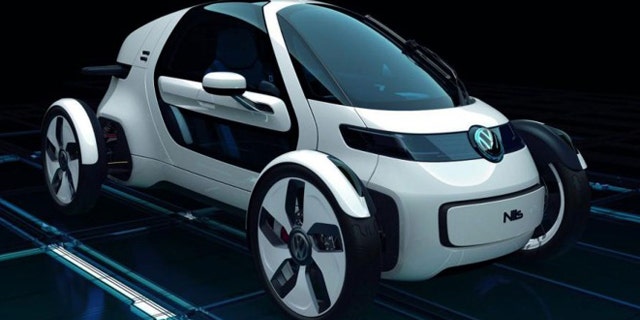 The company that gave us "the people's car" has now created "the person's car."
The Volkswagen NILS is a one-seat electric car concept that the German automaker bills as the sustainable, lifestyle vehicle of the future.
The tiny outboard-wheel pod is just 10 feet long and a less than three feet wide across the middle. But, in spite of its diminutive size, it has two gullwing doors, giving its driver the ability to make dramatic entrances and exits no matter what side of the road the car is parked on.
With a tip of the hat to the original VW Beetle, the electric motor is located in the rear and is powered by a 5.3 kWh battery pack – about a fifth of the size of the one in the five-seat Nissan Leaf. Yet, even with its low 1014-pound weight and slight aerodynamic profile, the NILS has a range of just 40 miles per two-hour charge, making it suitable mostly as a commuter car and urban runabout.
To help increase the safety provided by its aluminum spaceframe construction, the NILS is fitted with a high-tech automatic braking system that can detect imminent collisions and slow the car without driver intervention. Ideal for the stop-and-go traffic it will mostly be subjected to.
To help keep the weight down, interior appointments have been kept to a bare minimum and the infotainment system is contained on a removable media device.
FoxNews.com Autos is on Twitter. Follow us @foxcarreport
There is a trunk on top of the motor compartment, but from the looks of things it's more like a covered backpack in size. You'll have to bring the Toureg on serious antiquing trips.
When can you expect to see the NILS on the road? According to VW the car looks as if "someone had projected it back from 2030," so we're not sure if that means we'll have to wait until then or if the company will be taking advantage of this futuristic design in the near future. Nevertheless, it will be on public display at the 2011 Frankfurt Motor Show.
Click here for more from FoxNews.com Autos