Virginia police issue $100 ticket to driver smoking with child in car: 'We are watching'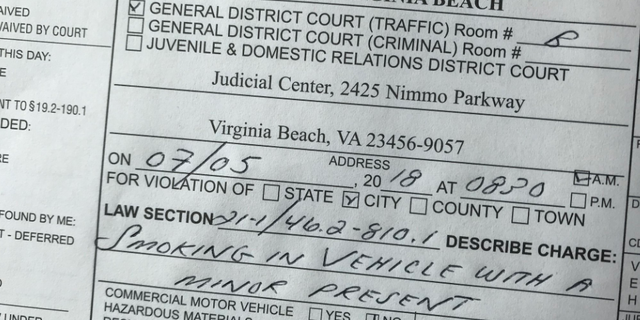 A police officer with the Virginia Beach Police Department recently issued a $100 ticket to a driver who was smoking a cigarette with a child in the car.
The police department posted a photo of the ticket on Twitter, writing: "Protect your children and keep $100 in your pocket! #NoSmoking #WeAreWatching."
Virginia police can issue the $100 fine to anyone smoking in a car with a child under 8 years of age, according to WAVY-TV. However, it constitutes as a secondary offense, meaning the driver has to be pulled over for a separate traffic violation first.
The law went into effect in July of 2016. Since then, the Virginia Beach Police Department has issued roughly 23 tickets of this kind, WAVY-TV reported.