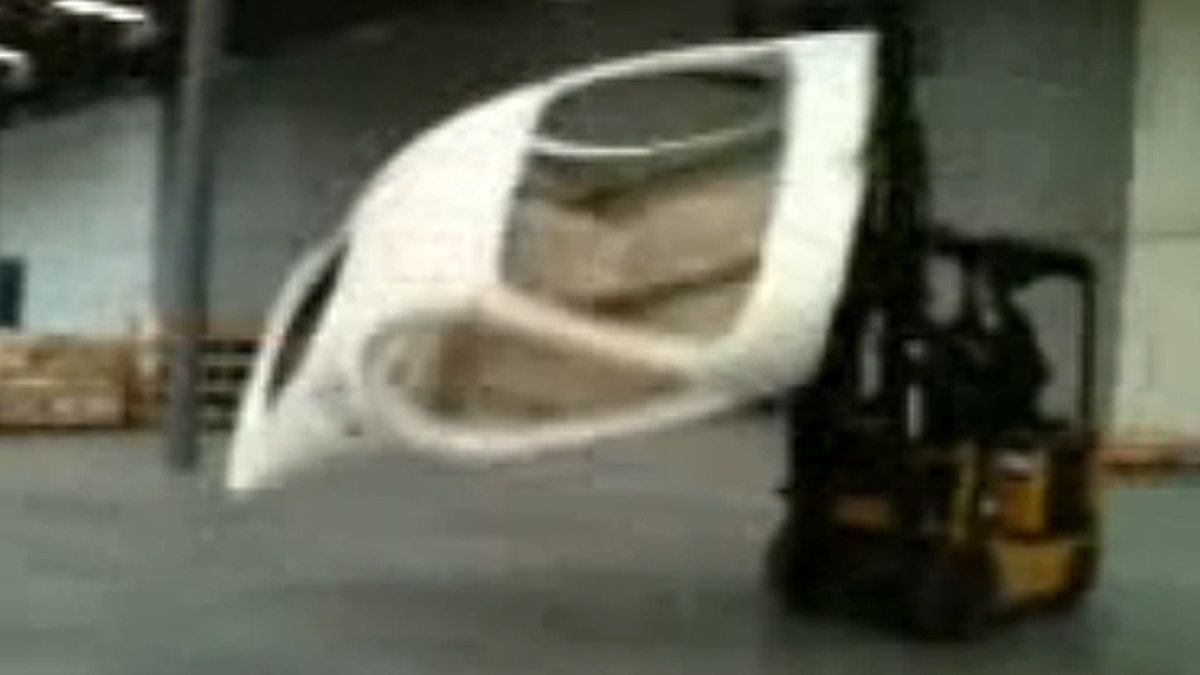 Less than a week after California startup Aptera Motors announced it was going out of business, videos of what appear to be employees of the company playfully destroying body shells of its radical electric car have appeared on the internet, prompting outcry from many in the alternative car arena, including two of the automaker's former executives.
FoxNews.com has now confirmed that the videos are in fact what they appear to be, and a company spokesperson says the activity was sanctioned by Aptera management.
But it's not what you think.
According to Aptera, the videos were shot this past April at the Carlsbad, California-based company's former headquarters in Oceanside, Calif., which it began vacating in May. The teardrop-shaped chassis seen being thrown around by forklifts and crushed into walls are flawed prototypes that were being disposed of intentionally, and subjected to a little impromptu crash testing in the process.
Click here to see more of the videos
As far as the company's existing assets are concerned, Aptera says that they are safely under the control of a liquidation company that plans to dispose of them in a less literal manner than is depicted in the videos. Aptera staff remain hopeful that another entity will come in and pick up where they left off, or at least continue to develop some of the technology pioneered by them.
Along with the ultra-aerodynamic 2e battery-powered two-seat car that is the subject of the videos, at the time it closed its doors Aptera was working on a four-door, five-passenger electric car that it claimed would get the equivalent of 190 mpg and cost just $30,000. The company ran out of funding before it could bring the project to fruition.