Unique license plate sells for $5 million at auction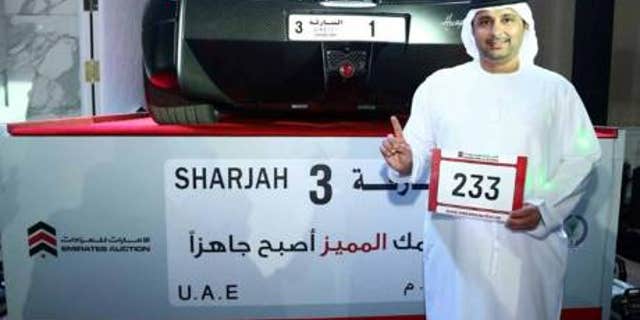 And you thought the DMV was expensive.
An Emirati man paid approximately $5 million at recent public auction for a license plate with the number 1 on it.
The local businessman, Arif Ahmad Al Zarouni, told the Gulf News that "I attended the license plate auction only to win number 1. My ambition is always to be number 1." He said he plans to keep it, rather than try to resell it, but has not yet revealed the car that will be registered to it.
The event was held in the United Arab Emirate of Sharjah, where 60 significant numbers were being offered, including 333, 777, 2016 and 99999. Events like this are common in the UAE, which is made up of seven members, each issuing their own license plates, some more valuable than others.
Al Zarouni may be number 1 in Sharjah, but he won't impress anyone if he takes a road trip to Dubai. The number 1 plate there sold in 2008 for the still record price of $14 million, which was donated to charities including one that supported a hospital specializing in treating the victims of road accidents.