Ultimate flea market find? $100 million Ferrari sits in a Florida swap shop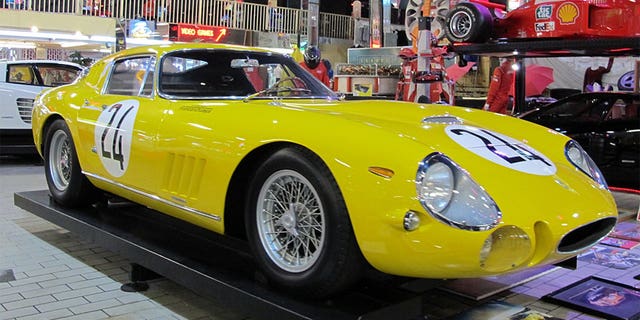 NEWYou can now listen to Fox News articles!
Tucked away in a shantytown of shops in Fort Lauderdale, Florida, sits what could be the most valuable car in the world. It is one of three 1964 Ferrari 275 GTB/C Speciales ever built and it's the only one with a racing history.
The car is owned by millionaire Preston Henn, and it is on display not in a museum but in one of Henn's three Swap Shop flea market locations.
All three 275 GTB/C Speciales were built as race cars (the C stands for Competizione) to compete in the FIA's GT class. Successors to the 250 GTO, they were designed by Pininfarina, and Scaglieti built the bodies. The cars were based on the 275 GTB road car but featured several modifications for racing. The aluminum body panels were about half as thick as those of the road cars, making them prone to denting. The Speciales also used thinner chassis tubes to reduce weight. All told, they weighed more than 300 pounds less than the road cars.
CHECK OUT: Lamborghini shows off Miura "body in white" for car's 50th
The engine was a 3.3-liter V-12 with dry-sump lubrication so it could sit low in the chassis. Six Weber carburetors from the 250 LM topped the engine. Output was 330 horsepower, up about 70 horses from the road cars. These were also the first Ferraris with independent rear suspensions and rear transaxle gearboxes.
The car featured here is chassis number 6885, and it was the only one of the three to see racing action. Campaigned by Ferrari's satellite race team Ecurie Francorchamps of Belgium, it suffered a DNF in its first race at the 1965 Targa Florio. At the 1965 24 Hours of Le Mans, however, it won the GT class and finished third overall behind a pair of Ferrari 250 LMs. Overheating issues spurred the team to punch an ugly hole in the nose during the race, an issue that has obviously been rectified.
Later that year, chassis 6885 was transferred to Ferrari's North American Racing Team (N.A.R.T.) in whose hands it won the Nassau Grand Prix.
DON'T MISS: 2017 Ford Mustang Shelby GT350 gets standard Track Package, new colors
Henn, 85, has owned the Ferrari for decades, and he has no plans to sell. It sits among an impressive collection of supercars and race cars. Among the race cars are a Gunnar Porsche 935 that Henn drove in 1985, a Michael Schumacher Ferrari Formula One car, and the Porsche 962 that won the 1985 24 Hours of Daytona. The supercars include a Ford GT, a Maserati MC12, a Porsche 918 Spyder, a Mercedes-Benz SLR McLaren, and three Ferraris: an Enzo, an FXX, and a LaFerrari.
So what might chassis 6885 be worth? Of the other two cars, chassis number 6701, the first 275 GTB/C Speciale built, sold at an RM Auction in 2014 for $26.4 million. That car had no racing pedigree. The other car, chassis number 7185, also lacks a racing pedigree and is part of a private collection.
The most expensive car ever sold was a 1963 Ferrari GTO that went for $52 million in a private sale. The record sale price at an auction is held by a 1962 Ferrari GTO that sold at Bonham's Quail Auction in 2014 for $38.115 million.
Like any collector car, this ultra-rate Ferrari is only worth what someone is willing to pay for it. Chassis 6885 won't go up for sale any time soon, but enthusiasts have speculated that it could go for $75 million or even top $100 million. If a Bugatti Royale were to come to market, it could possibly top those figures, but we won't know until it happens.
We can only speculate that this fantastic Ferrari could be the most valuable car in the world. For now, though, it rests among good company in an oddball Florida flea market.