Toyota Tacoma leads small pickups in latest IIHS crash tests
The Toyota Tacoma double cab received the highest scores in the latest round of small pickup crash tests conducted by the Insurance Institute for Highway Safety.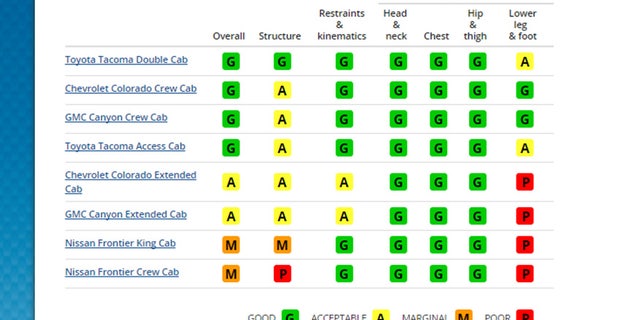 Of the eight pickups tested, four earned Good ratings, but none qualified for the organization's Top Safety Pick awards due to underperforming headlamps and their lack of automatic emergency braking systems.
TOYOTA TACOMA TRD PRO TEST DRIVE:
The Tacoma Crew Cab scored Good marks in all categories except for leg and foot protection where it was marked acceptable. The smaller Double Cab model also received a Good score overall, but Acceptable grades for structure, along with head and foot protection.
The Chevrolet Colorado and nearly identical GMC Canyon Crew Cab trucks earned Good overall ratings, with Acceptable scores for structure.
CHEVROLET COLORADO ZR2 TEST DRIVE:
Extended cab versions of the Colorado and Canyon, which feature half rear doors, were marked Acceptable overall, while the Nissan Frontier, which hasn't been redesigned since 2005, was deemed Marginal in both King Cab and Crew Cab configurations in large part for allowing significant intrusion into the passenger compartment.