These Indian-market cars failed spectacularly in Global NCAP crash tests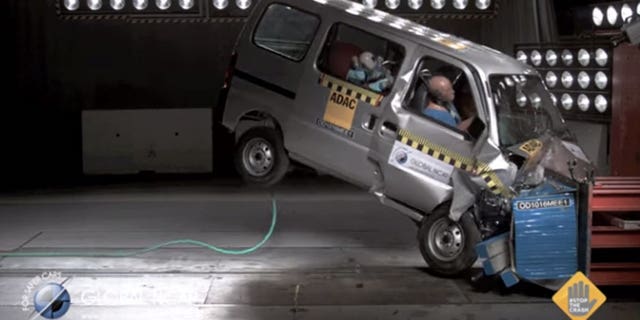 Five small cars designed specifically for the Indian market have all failed crash tests conducted by the United Kingdom-based Global New Car Assessment Program (NCAP).
Not one of the five—the Renault Kwid, Maruti Suzuki Celerio, Maruti Suzuki Eeco, Mahindra Scorpio, and Hyundai Eon—scored a single star in the rigorous testing designed to encourage automakers to offer safer cars in emerging markets.
The group actually tested seven vehicles, including three configurations of the Renault Kwid in response to a request from the French automaker.
Global NCAP stressed the importance of both a strong safety cage and the inclusion of airbags as standard. Initially, none of the cars tested were equipped with airbags, but Renault asked for Global NCAP to crash a higher-specification Kwid. That car, however, performed only moderately better. Global NCAP says its structure was simply not rigid enough.
Global NCAP's board includes former bosses of FIA, IIHS
A safety structure helps, but so do restraint systems. Previously, Global NCAP tested the Volkswagen Polo both with and without airbags. The model without was rated at zero stars, while the dual airbag trim level received four stars.
India's new car safety requirements are minimal in that cars aren't required to be sold with any airbags at all, something Global NCAP called "clearly sub-standard" in a release issued to the media.
The Indian government will, however, begin mandating front and side impact crash tests beginning in October of 2017.
The Global NCAP's board includes former FIA President Max Mosley as its Chairman as well as Insurance Institute for Highway Safety President Adrian Lund.
More news from Motor Authority