Tesla semi truck caught on camera weeks before debut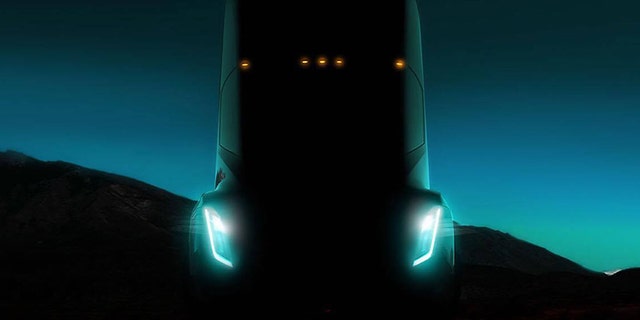 Tesla's electric semi-truck is set to be revealed on October 26, but it may have already been spotted.
An image purported to be of the battery-powered tractor was briefly posted to Reddit then pulled down, but reposted to the site by another user.
According to Electrek.co, the image was taken at an undisclosed location in California where Tesla is known to test its vehicles.
The truck is clearly the same design as an official teaser image that was released by Tesla earlier this year, with vertical headlights, distinct fender flares and black trim surrounding its windshield.
MACK ANTHEM IS AMERICA'S NEW-LOOK SEMI
The new image of the truck shows that it has no grille, and that it features a cab-over layout, with the seats situated over the front axle. The design is striking in contrast to the diesel rig that is pulling the flatbed trailer the Tesla is parked on.
A section behind the cab could be where the batteries are housed, although Tesla's car models are designed with them in the floor of the vehicle. On the ground nearby is what appears to be a roof-mounted aerodynamic fairing, which is depicted on the truck in the teaser image.
Tesla hasn't released any official specifications for the semi, but a Ryder executive who was briefed on the vehicle says it can go between 200 and 300 miles per charge.
THE BIGGEST CHEVROLET SILVERADO EVER IS ON THE WAY NEXT YEAR