Tesla opens Model 3 order book to all as tax credits begin to wind down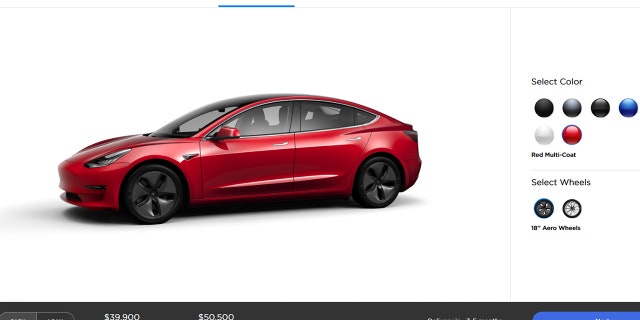 Tesla opened the taps on Model 3 sales this week by dropping the exclusive reservations list it established last year, allowing anyone in the U.S. to order one of the small sedans with a $2,500 deposit.
But fans of the car who have long been hoping to pay less than $30,000 for one may never get the chance.
The automaker has now sold a total of over 200,000 electric vehicles in the U.S., which means that that the $7,500 federal tax credit that its cars have been eligible for will begin to phase out on Jan. 1, 2019, when it drops to $3,750, followed by a further reduction to $1,875 on July 1 and its full elimination at the end of the year.
Tesla CEO Elon Musk has promised to deliver an entry-level Model 3 with a range of 220 miles per charge and a starting price of $35,000 one day, but that configuration can't be ordered yet and the Tesla website says it will be six to nine months before it will be available.
Since the credits apply when the purchase is completed, it appears that few, if any, buyers will be able to take advantage of the full $7,500 discount on this model. However, additional purchase incentives are available in a dozen states.
Currently, the lowest-priced version of the Model 3 on offer is a rear-wheel-drive edition equipped with a premium interior and long-range (310-mile) battery pack for $43,000, with deliveries estimated in three to five months.
Those who'd like to get their cars sooner have to step up to the $64,000 all-wheel-drive performance model, which is listed with a two to four months wait time.
Along with the new Model 3 orders placed from here on out, Tesla has a backlog of about 400,000 reservation holders as it continues to ramp up production.
Tesla is the first automaker to reach this milestone, while General Motors has said that it expects to follow sometime later this year. The first step in the credit reduction begins six months after the threshold is crossed.
The incentive program was established to help jump-start the electric car industry by subsidizing the costs of developing new technologies in its early years.
Neither Tesla nor GM have said if they have plans to reduce the upfront prices of their cars as the credits wind down.