Superformance Shelby Daytona Test Drive
One of the rarest American cars ever made is about to become a lot more common.
Frustrated by the top speed of his open-top Cobra race cars, Carroll Shelby developed the sleek Daytona in 1964 to go after GT endurance racing titles around the world.
The Kammback coupe was designed by driver Pete Brock and an instant success. It took class wins at the 12 Hours of Sebring and 24 Hours of Le Mans that year and went on to claim the 1965 World Sportscar championship.
Only six were made before Shelby was tapped to develop the Ford GT40 prototype to chase the overall win at Le Mans. It did four times in a row from 1966-1969, making the Daytona obsolete in the process.
At the time, you could pick up one of the discarded cars for a few thousand dollars, but their value has grown with their legend over the years. The last time one was sold, in 2009, it went for $7.25 million. Today, the Hagerty Price Guide estimates they're worth up to $30 million.
They don't change hands often, and their owners drive them rarely, if ever. It's a YouTube-worthy event when they do. They rank among the Picassos of the automotive world. But it will soon be simple to pick up a lithograph of one, and it might even be better than the original.
Superformance has been offering DIY versions of the Daytona for several years. Like other "kit" car makers, laws have only allowed the California-based outlet to sell the rolling chassis, which is built in South Africa, without a drivetrain. Customers are responsible for having the engine and transmission installed and registering the vehicle as a custom-built car, a procedure that varies from state to state.
That's about to change.
Starting next year, recently passed federal legislation will let small automakers like Superformance build up to 325 complete cars annually without having to meet current crash test standards, just emissions rules. They'll come with a VIN, just like any new car, making them much easier to register, insure and finance.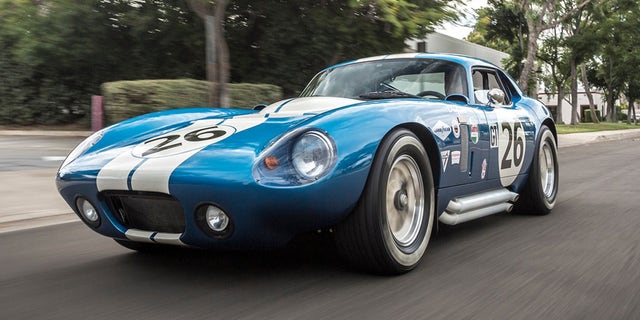 The hitch is that they have to be licensed replicas of cars that are over 25-years-old, not new designs. It's a concession to the major automakers that have to play by much tougher rules. That's fine for Superformance. Along with the Daytona, it also makes Cobras and GT40s, along with a 1962 Corvette Grand Sport for Chevy fans. CEO Lance Stander expects sales to grow to the 325 limit, and is already expanding the Irvine facility where final assembly will take place.
In the case of the Daytona, it's not a carbon copy of the original. Superformance had Brock help design a slightly scaled-up version to turn it into a more comfortable street machine than the cramped competition car. It still has a tube frame chassis, but it's fitted with a fiberglass body (aluminum is also offered,) Shelby/Wilwood disc brakes and fully independent twin A-arm coil-over suspension in place of the 1960s-era leaf springs. Prices will start at around $200,000, and they come with the blessing of Shelby American, which recongizes the cars in its registry.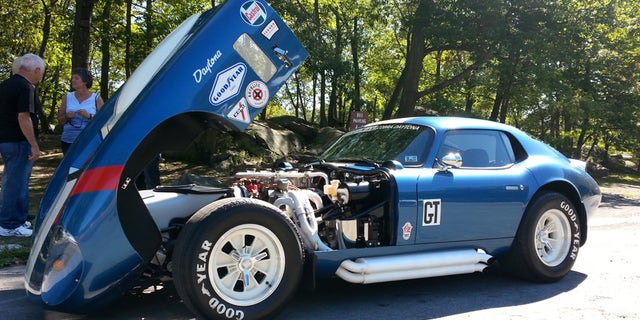 Even with its leather-trimmed retro interior, the Superformance Daytona weighs well under 3000 pounds. It has power steering and air conditioning, but no airbags or electronic safety aids. Compared to a modern car, it's raw meat.
Primarily engineered for a 427 Ford V8, like the 525 horsepower Weber-carbureted example in the Daytona owned by Ronald Sicilia that I took for a spin, it can accommodate several other motors. Turnkey cars will likely end up with a supercharged fuel-injected V8 being developed by Roush to pass the emissions tests, but GM's popular E-Rod V8 crate engine is a potential, if blasphemous alternative.
Negotiate the Daytona's low, small door, and you find yourself in a snug, but not too tiny cabin with good visibility and a large hatch-accessed cargo area that turns into a thunderdome when you light up the V8. Stander says the fuel-injected cars are mellower, but the side exhaust pipes can be cranked up as loud as you like.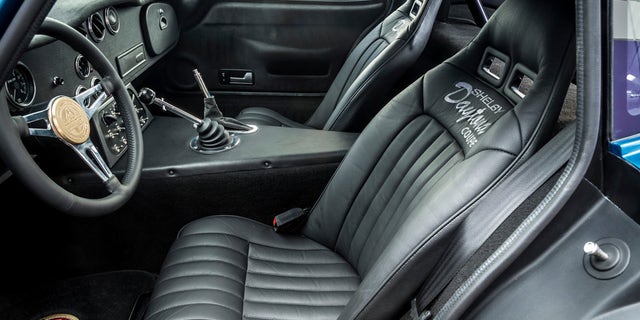 The floor-mounted pedals, steering and shifter all have a heavier, more serious feel than anything you can buy today, except maybe for the Dodge Viper. This is fitting, as the Viper was partially inspired by the Daytona and, facing retirement after a 25-year run, is practically a classic itself.
Considering its specifications, it's no surprise to learn that the Daytona is quick, but it also feels solid and has a much better ride quality than its stance suggests. You can thank that updated suspension, but throwback tall sidewall tires on 15-inch wheels do their part to soak up the road.
Even with them, there is a ton of grip, and great body control. It's more impressive than any restored half-century-old car would be, and can hold its own against many of the latest sports cars that it will be competing against. Various performance modifications are offered, and one Daytona has already been tested above 200 mph.
Most buyers won't be looking to do that. Like Sicilia, who also owns a Ferrari and Ford GT, it's the old-school sights and sounds that are the main appeal. He's done up his in the Daytona's classic racing livery, which makes it even more of a rolling conversation piece than it already is, and a unique sight around his Pennsylvania town.
At least for now.