Supercar smashup: 5 of the most expensive car wrecks ever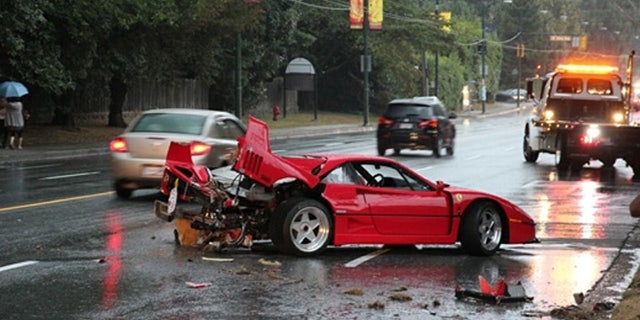 The amount of performance available in modern supercars exceeds that of highly competitive race cars of not that long ago. Sadly, there isn't a special requirement that the operators of these cars know the basics of car control, and very often, the performance of these cars proves to be too much when the owners' often meager driving skills come into terminal conflict with their outsized egos. Here are some notable supercar altercations:
Ferrari F40 Kisses a Pole in Vancouver, B.C.: This formerly pristine 1988 Ferrari F40 was leaving a car show in Vancouver several weeks ago when the owner lost control for no apparent reason and hit a pole, causing severe damage to this three-quarters-of-a-million-dollar supercar.
Bugatti Veyron /Swamp Buggy: The owner of this leased Veyron valued at more than $2 million veered into a saltwater marsh near Houston, Texas, back in 2009 while allegedly avoiding a Pelican. Inexplicably, the driver let the car run for 10 minutes, ensuring that the engine ingested enough saltwater to render it barely usable as even a coffee table. A cell phone video of the event showed nary a seagull, let alone a pelican.
Swedish Mafioso Crashes Ferrari Enzo in Malibu: In 2006, Bo Stefan Ericksson, known to Swedish organized crime investigators as "Fat Steve," crashed a 2003 Ferrari Enzo on the Pacific Coast Highway near Malibu while going 160 mph. The car hit a pole and literally split in half. Amazingly, Ericksson and his passenger suffered only cut lips. Unfortunately, the car, which had been illegally exported from the UK without the lien-holder's consent, was a total loss. After spending time in jail in the U.S., Ericksson was deported to Sweden where he is now incarcerated on unrelated charges.
Truckload of Vintage Porsches Meets Union Pacific: While technically not a case of the car driver's error, in 2004, an auto transport truck driver got lost trying to find a shortcut to a Southern California freeway. The truck got stuck on a set of train tracks and a locomotive pulling 100 freight cars slammed into the truck's load of classic Porsches, destroying five of them. The moral of the story is one that most Southern Californians already know: Stick with the surface streets; don't bother with the freeways.
Russian Billionaire Crashes a Ferrari Enzo on the French Riviera: A Russian billionaire philanthropist was driving yet another Ferrari Enzo at a high rate of speed on the 30 mph marked Promenade des Anglais in Nice, France, when the driver lost control and struck a palm tree. Once again the Enzo split in two. The driver suffered injuries more severe than those suffered by Bo Stefan Ericksson but has fully recovered from them and is once again managing his fortune and numerous charities.
Click here for five cars worth $5 million or more.
Click to sign up for more classic car stories delivered right to your inbox.
Looking for insurance for your classic car or vintage motorcycle? Click here for a 90-second quote.