Short Supplies Limit U.S. Auto Sales in May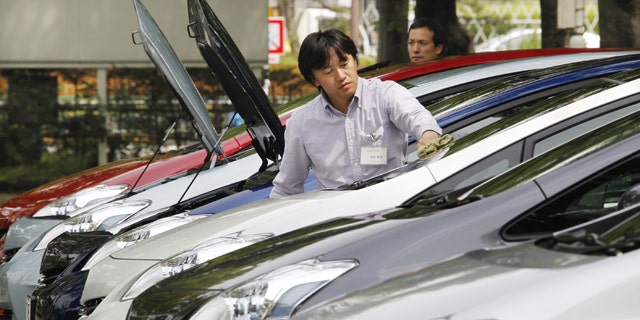 DETROIT – U.S. auto sales cooled off in May as dealers started running short on some popular, fuel-efficient models and buyers were turned off by sharply lower incentives.
Deals aren't likely to come back until the end of this summer. Some experts are advising people to delay their purchases if they can.
"If you don't have to buy, wait until fall. If you lease a car, extend it," said Edmunds.com chief Jeremy Anwyl.
Consumers heard that message in May. U.S. auto sales were expected to be around 1 million cars and trucks, down 8 percent from April and 4 percent from last May.
Toyota Motor Corp. and Honda Motor Co. and Nissan Motor Co., all of which ran short of models due to parts shortages caused by the March 11 earthquake in Japan, had the biggest sales declines, with Toyota down 33 percent, Honda off 23 percent and Nissan off 9 percent compared with May of last year.
General Motors Corp. sales dropped 1.2 percent, as falling pickup truck sales offset strong sales of more fuel-efficient cars and crossovers. It was the same story at Ford Motor Co., which saw sales fall 2.4 percent for the month. Pickup sales dropped more than 10 percent at both companies.
Once again, small, compact and midsize car sales were up and truck sales were down because of high gas prices.
At Ford, where the F-Series pickup is traditionally the top-selling vehicle in the U.S., fuel economy clearly was driving sales. For the first time in decades, the company sold more F-150s with V6 engines (55 percent) than it did with larger V8s.
Despite a raft of bad economic data in the past few days, automakers generally said they were still optimistic for the year, with Ford and GM sticking with annual forecasts of around 13 million in U.S. sales. That's far short of the 2000 peak of 17.3 million, but better than the 10.4 million trough in 2009.
Ford even increased third-quarter production by 8 percent over last year, and its chief economist, Ellen Hughes-Cromwick, said there was good economic news with the bad, including moderating of gas prices, low interest rates and better availability of loans.
"We caution against reading too much into the monthly data," she said.
Don Johnson, GM's vice president of sales, said consumers are taking a wait-and-see approach as gas prices fluctuate around $4 per gallon. Construction remains weak, hurting truck sales.
Even so, Johnson feels consumer confidence over the long term remains strong and sees pent-up demand among drivers who kept their vehicles longer than usual during the recession. He expects sales and incentive spending to rise toward the end of the summer.
"All things considered, we continue to believe the recovery remains on track," he said.
Automakers usually use the warmer months to cut deals and clear out old inventory to make way for new models in the fall. But this year, they don't have many of last year's models sitting around. Japanese automakers had to cut production after the earthquake and domestic automakers can't produce cars any faster. Automakers are also raising prices to make up for the higher price of steel and other commodities.
The car companies offered their lowest incentives in six years last month, according to Edmunds, spending an average of $2,094 per vehicle on sweeteners such as rebates and low-interest loans. That's flat from April and nearly 20 percent lower than in May of 2010. Prices on Japanese cars have risen an average of $610 per vehicle since the quake, Edmunds said.
Shortages are the biggest reason. IHS Automotive estimates that the U.S. has around 400,000 fewer cars in inventory than it should have at the current sales pace. Toyota began May with only enough Prius hybrids for 10 days of sales. A 60-day supply is considered healthy.
Even sales of some fuel-efficient small cars not affected by the earthquake are in tight supply. GM said it only has a 37-day supply of the Chevrolet Cruze small car.
Alec Gutierrez, manager of vehicle valuation for Kelley Blue Book, expects prices to be high into the fall. Then a likely drop in gas prices and increases in Japanese production should bring them back to more normal levels. Honda Motor Co. said last week that its North American production will return to near-normal levels in August. But production of the popular, fuel-efficient Civic, which still lacks critical parts from Japan, will take longer to recover.
Rising prices prompted Bradd Levin of Stamford, Conn., to go ahead and buy a 2011 Honda Pilot in May. Levin and his wife are expecting their third child in December, so he was planning to buy a larger vehicle early this fall. He figured demand for the small SUV would be low because it's not as good on fuel as some smaller cars.
But Levin, a 35-year-old salesman at a plumbing supply business, was startled when Honda raised its annual percentage rate offer and took away a $750 cash incentive in May. Then, he heard from his dealer and others that Pilots with navigation could be in short supply because the chips used for them are made in Japan. He decided to buy the Pilot while he could still get a 2.9-percent rate and pay less than the suggested price.
Other automakers reporting Wednesday:
— Volkswagen of America said its sales were up nearly 28 percent for the month, mainly due to a 59 percent increase in sales of its redesigned Jetta sedan and wagon. It was VW's best sales month in more than seven years.
— Hyundai Motor Co. said its sales rose 21 percent in May to more than 59,000 vehicles, led by the redesigned Elantra compact car. Sales of the Elantra more than doubled to 20,000.