Short Spin: 2017 Honda Grom
Honda shrank the sport bike, and it turned out to be a big deal.
It introduced its teeny, cutesy Grom on something of a lark two years ago, but it is now the company's best-selling model. It's so popular, Kawasaki has copied it with a so-called "monkey bike" of its own, and it earned a redesign for the 2017 model year.
Part starter bike, part city bike, part novelty act, the $3,349 Grom is priced and sized like a scooter. But it's a legit motorcycle with a 125 cc engine, chain drive, four-speed manual transmission, inverted front forks, single-shock swingarm rear suspension, disc brakes, stacked LED headlights, a digital dashboard and streetfighter-style bodywork. All five-eighths scale, of course.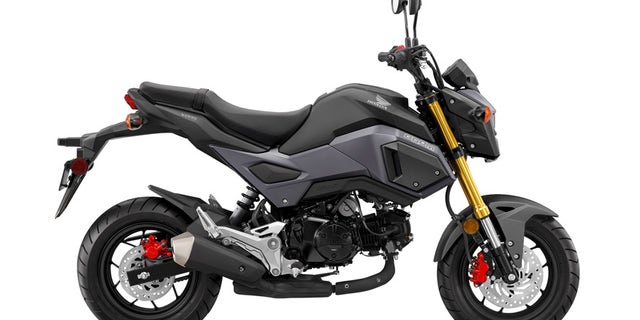 Nevertheless, at 30 inches, the seat is deceptively high and has been built for two, though that might be ambitious. The Grom has only 9 horsepower and a top speed in the 55 mph range, but that mostly depends on you. At 6-foot-1 and 185 pounds, I hit the wall at 47 before I tucked. When I did, I managed to crack 50 on a long, flat straight. Just.
It was an excellent lesson in aerodynamic drag. I got a refresher course in gravity when I found myself slowing down very quickly on the gentle slope that followed. In some states, the Grom doesn't qualify for highway use, obviously with good reason. But who cares?
Best on the back roads, it's easy to toss around like the 229-pound ragdoll it is. A skilled rider can even put a knee down in the curves, as evidenced by the many Grom-based track racing series that have popped up across the country. For someone just learning how to ride, it's a much more authentic motorcycle experience than a scooter like the Honda Ruckus or a Vespa 125, and it gets well over 100 mpg.
Sure, if you're big, you feel silly on it at first, and the ergonomics aren't exactly ideal. In my case, that meant the pointy side of the tank cover dug into my left knee whenever I went to change gears, and the mirrors weren't wide enough to see past my arms. But after a few miles, none of those things mattered, because I was laughing out loud at how much fun I was having on it.
The Grom is so small, when I tilted my chin up a little, the entire bike disappeared from my view. I felt like a daredevil shot out of a cannon and flying through the air. Or Kate Winslet on the bow of the Titanic. No, definitely the cannon thing.
Either way, the Grom is basically a big smile on two tiny wheels.