Shelby's 'Green Hornet' Mustang to cross the block in Scottsdale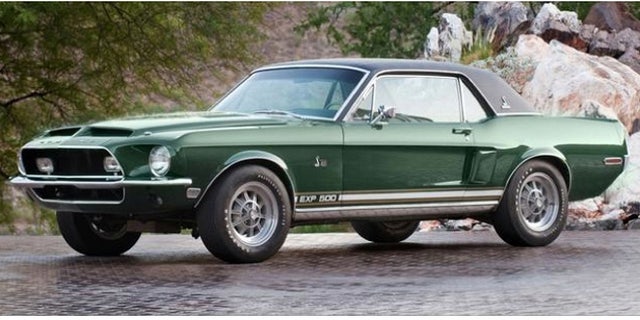 While there is no shortage of rare and desirable Mustangs affiliated with Carroll Shelby, it's hard to top a car that's one of one, especially when the saved-from-the-crusher car was never intended to be more than a Ford design study.

Inspired by the success of the "California Special" Mustang, Ford tasked its design team with styling a similar version of the Mustang for national sales. Called the GT/Sport Coupe, two prototypes were built, including a Lime Gold notchback with an Ivy Gold interior, a 390 cubic-inch V-8 and an automatic transmission.

The car, with a VIN ending in 104288, made the rounds at auto shows, but Ford opted not to pursue the GT/Sport Coupe program. Instead of being sent to the crusher, VIN 104288 was shipped to Shelby American to be used as an engineering prototype called the EXP 500. Thanks to its conspicuous paint scheme, the car was quickly dubbed "The Green Hornet."
Read: How to buy a 'new' 1960 Ford Mustang

Shelby's chief engineer, Fred Goodell, used The Green Hornet as a rolling testbed for component development. When it was time to send the car to the scrapyard, Goodell's love for VIN 104288 prevented him from doing so, and the car quietly fell off the radar of collectors, who believed that it had met a grisly fate under the crushing weight of a hydraulic press.

Now restored back to its original glory, Craig Jackson calls car a "significant piece of Ford, Shelby and muscle car history," that was "so ahead of its time." Come January of 2013, you'll have a chance to park The Green Hornet in your own garage, as it will be sold to the highest bidder at Barrett-Jackson's Scottsdale auction.

No pre-auction estimate is given, but we suspect it will take a truckload of cash to acquire a Mustang so intimately associated with Carroll Shelby, Fred Goodell and muscle car history.