Self-driving shuttle hit by human-driven truck hours after debut
A driverless shuttle was involved in an accident hours after it debuted in the streets of downtown Las Vegas on Wednesday. But those involved in the conception of the project said the shuttle was not at fault.
"The exciting thing is that the vehicle did exactly what it was programmed to do. This is a really good real-world case of how the technology actually works", said John Moreno, a spokesperson for The American Automobile Association (AAA,) a sponsor on the project.
"The shuttle came to a complete stop, a semi-truck driver was backing up and unfortunately continued to back up and may not have seen the shuttle and grazed the front bumper of it," Moreno explained.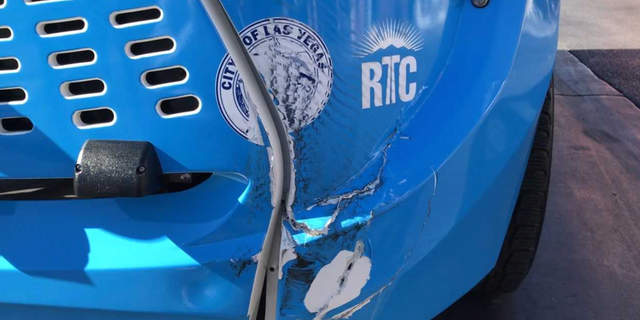 "The shuttle recognized that the semi-truck was backing up and as it's programmed to do: it stopped," he added.
AAA and transportation company Keolis conducted a review of the all-electric, eight-seat Navya ARMA vehicle and found the shuttle did everything it was designed to do in the incident. The shuttle did have to pause service for the remainder of the day so the review could be done, but it was still operational and drove away from the scene. There was slight cosmetic damage to the vehicle.
No one was injured in the collision.
In a statement, the City of Las Vegas also noted that the shuttle did what it was supossed to do and said testing of the shuttle will continue.
"Had the truck had the same sensing equipment that the shuttle has, the accident would have been avoided," the statement read. "Testing of the shuttle will continue during the 12-month pilot in the downtown Innovation District. Metro Police cited the driver of the delivery truck."
The pilot program will run for a year and it is free to ride. It travels in a 0.6 mile loop in the central downtown of Vegas, their so-called "Innovation District" that has been testing new integrated technologies that are compatible with city living.
A human attendant remains on the shuttle in case there are kinks that require him or her to manually steer it with a remote control-like console.
"This is the future and having an opportunity to be the first to be able to ride something like this is just like getting a brand new phone, everyone wants to be first one with the brand new iPhone," said Maurice Bell, vice president of Mobility Solutions for Keolis, the operator of the shuttle.
Highlighting the unique nature of the technology, Bell added, "It's the first of its kind in the United States that's integrated with street signals. The shuttle knows when the street signals are going to change from one color to the next."