Reports: Mark Fields out as Ford CEO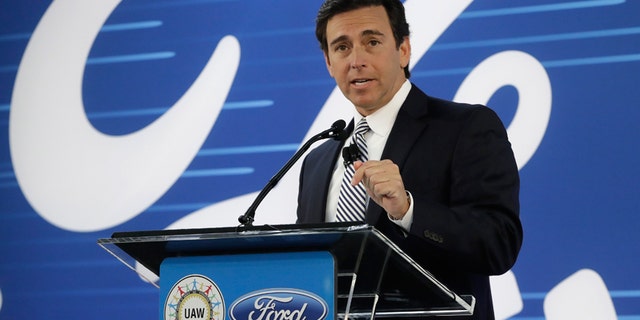 Ford Motor Co. is expected to announce on Monday the replacement of President and CEO Mark Fields with former board member Jim Hackett.
Hackett is now head of the company's Smart Mobility unit, which is focused on its ride-hailing and car-sharing efforts.
According to several reports, the move is due to the automaker's recent disappointing profits and stock price, which has dropped nearly 40 percent since Fields took over in 2014.
Fields, 56, has worked at the company for 28 years, and previously served as CEO of then Ford-owned Mazda, and president of The Americas.
Ford has not officially confirmed Field's departure, and issued a statement to Automotive News that said, "we are staying focused on our plan for creating value and profitable growth. We do not comment on speculation or rumors.
A press conference has since been scheduled at Ford headquarters in Dearborn, Mich., at 9:45 AM on Monday. However, no agenda was released.
Fields oversaw Ford's most profitable year ever in 2015, when the company earned $10.8 billion following the launch of its radical aluminum-bodied F-150 pickup. It's stock price has lagged, however, and the company is now worth less than startup rival Tesla, partly due to its inability to drum up excitement around its electric and autonomous car efforts.
"Mark Fields was given the nearly impossible task of making the utterly conventional auto manufacturer, Ford Motor Company, into a high-tech information-style company with share values to match," said Jack Nerad, the editorial director for the car shopping site Kelley Blue Book. "Despite turning in credible profits, Fields was unable to turn Ford into a stock market darling, and that may well prove elusive going forward."
Hackett is the former CEO of Steelcase Inc., one of the world's largest office furniture companies. He is credited with transforming that company, in part by predicting the shift away from cubicles and into open office plans. But he also cut thousands of jobs and moved furniture production from the U.S. to Mexico to stem massive losses at the company.
Hackett also served as the interim athletic director at the University of Michigan from 2014 to 2016. In that role, he lured star football coach Jim Harbaugh.
Hackett will have to placate investors worried about Ford's sliding U.S. market share and product decisions. Ford's U.S. sales are down this year in part because it doesn't have offerings in popular segments like subcompact SUVs and midsize pickups. Investors also worry that Ford is falling behind its rivals. GM's Chevrolet Bolt electric car, with 238 miles of range, went on sale last year; Ford is working on an electric SUV with 300 miles of range, but it's not due out until 2020.
Mary Barra — who became GM's CEO about six months before Fields became Ford's — has also made a series of headline-grabbing moves, such as forming a partnership with the ride-hailing company Lyft and pulling GM out of unprofitable markets, including Europe, India and South Africa. Ford also made investments in new mobility companies and announced it would have a self-driving shuttle on the road by 2021, but its efforts haven't swayed investors. GM's shares are worth around $33, while Ford's languish below $11.
Fields had the tough job of following CEO Alan Mulally, another auto industry outsider who was hired away from Boeing to lead Ford. Mulally, who joined Ford in 2006 when it was near bankruptcy, was widely credited with ending internal bickering at Ford and streamlining manufacturing.
As part of the shake-up, several Ford executives are taking on new roles. Jim Farley, who led the company's European division back to profitability in recent years, will become vice president of global markets and will oversee Lincoln, sales and marketing. Joe Hinrichs, president of Ford's Americas division, will oversee global product development, manufacturing and quality. Marcy Klevorn, Ford's chief technical officer, will replace Hackett as the head of Ford Smart Mobility LLC, Ford's future mobility unit.
The Associated Press contributed to this report