Power Lines Cited as Possible Cause of Runaway Toyotas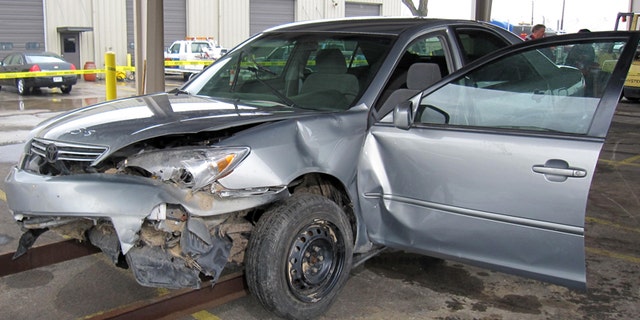 The story is one you've heard before, the story of a Toyota that somehow malfunctioned and unexpectedly sped away.
Reverend Milton Allen remembers arriving on the scene moments after a 2005 Camry veered off US Highway 69 in Eufala, Oklahoma at a high rate of speed. Allen comforted the critically injured passenger, 70 year old Barbara Schwarz. Schwarz later died of her injuries.
Allen says, "she didn't deserve to die like that." He recalls that "she talked about how she kept yelling at her friend to slow down and try to get it to stop and her friend kept telling her it won't stop it won't stop."
Schwarz's family believes the fatal crash was caused by a flaw in the Camry's electronic throttle system. A lawsuit is pending.
While it's not clear exactly where the Camry started to malfunction, the car passed under a bridge and several power lines shortly before impact. Big power lines that can generate powerful fields of energy.
Professor Paul Steffes of the Georgia Institute of Technology says "those invisible fields are caused by current flowing through the wire…also the electrical voltage on the wire creates a different kind of a field called an electrical field both are capable of creating voltages in other devices."
Thirty nine suspected Toyota sudden acceleration deaths do appear to be loosely clustered around the heaviest parts of the U.S. electrical grid, but no definitive link between the two has been made.
There is another well-documented case of a Lexus loaner car speeding out of control after it passed under a several power lines on a highway outside of San Diego. In that case the 61 year old driver was able to safely stop the car. But days later that very same loaner car crashed on nearby State Road 125, four people in the car died, including the driver, off-duty California Highway Patrolman Mark Saylor. Just before the crash Saylor's brother-in-law called 911 from the backseat as the car screamed down the highway, telling the operator, "we're going 120…we're in trouble…there's no brakes."
No one is exactly sure what caused the Lexus to malfunction on that day, but some auto safety experts, including Clarence Ditlow of the prominent Center for Auto Safety, are rapidly coming to the conclusion that Toyota has a problem with the electronics in some models.
"This is a problem that faces all manufacturers," Ditlow says. "What we don't know is what different manufacturers have done for countermeasures of it."
Toyota says there is nothing wrong with the electronics in its cars, but the National Highway Traffic and Safety Administration is at least looking at EMI as a possible cause of these incidents of sudden unintended acceleration.