Potential 2019 Ford Ranger Raptor spied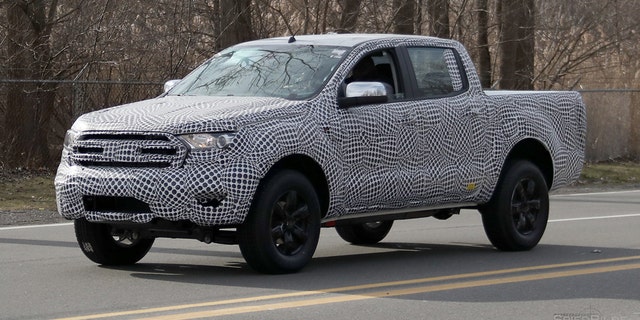 NEWYou can now listen to Fox News articles!
A new generation of the Ford Ranger returns to the United States as a 2019 model, and it may just offer a high-performance variant bearing the Raptor name.
Prototypes for the new Ranger are being tested in Australia where the local Ford division has been tasked with development of the vehicle's T6 platform. The T6 platform is also the basis of the current Ranger on sale outside the United States.
CarAdvice has managed to spot one of the prototypes sporting some upgrades that suggest it's for a version of the Ranger very much like the F-150 Raptor. Unique elements not seen on previous prototypes include flared wheel arches, increased ride height, off-road tires, and a shorter front bumper (to improve the approach angle).
The prototype's photographer said the vehicle sounded like it was powered by one of Ford's twin-turbocharged V-6 gasoline engines. The Ranger currently on sale overseas is offered with a pair of diesels: a 2.2-liter inline-4 with 158 horsepower and 284 pound-feet of torque and a 3.2-liter inline-6 with 197 hp and 346 lb-ft.
MORE AUTO NEWS FROM MOTOR AUTHORITY
There's also good reason to believe the vehicle will be called a Ranger Raptor. It was discovered in 2015 that Ford had registered the "Ranger FX4" and "Ranger Raptor" trademarks in Australia. We've already seen a Ranger FX4 launched Down Under. That leaves the Ranger Raptor name for this latest truck.
Interestingly, a new Bronco is being developed alongside the new Ranger, and any mechanical package offered in the pickup could potentially end up in the SUV.
----------
2017 FORD F-150 RAPTOR TEST DRIVE: