Popular Evenflo child seat recalled for problematic buckle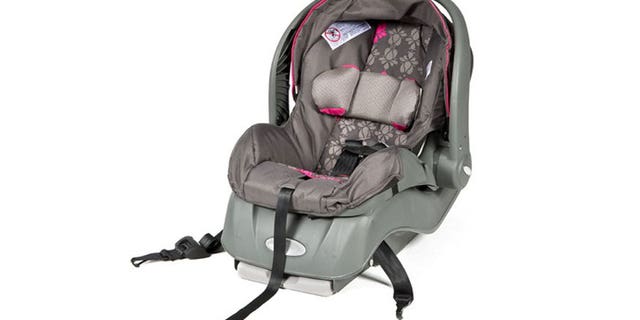 About 202,000 child seats by the company Evenflo are being recalled for an issue that might cause difficulty in quickly releasing the buckle—and thus, removing the child.
The recall potentially affects 202,346 'Embrace 35' rear-facing child seats from the brand made from December 2011 through May 2013. In the affected seats, the buckle could become difficult to unlatch, due to exposure to "contaminants, like food and drink," the manufacturer explains.
The issue: a buckle that won't give way
That difficulty could become a safety risk in the event of an accident or vehicle fire, in which the child would need to be quickly removed from the vehicle. Although the seat and child, together, could still be removed from the vehicle as usual, it's something that parents might not think to do in the panic of an emergency.
It's been a record-setting year for vehicle recalls; but it's also been quite the year for child-seat recalls. This is the same problematic buckle that finally prompted another child-seat manufacturer, Graco, to end a standoff with the feds on the issue and order a recall of nearly 1.9 million rear-facing child seats earlier this year. That follows the recall of about 4.2 million front-facing seats from that same maker.
Evenflo, like Graco, has yielded to mounting federal pressure and agreed to issue a recall. However, according to recall documents filed with the federal government, the company claimed to have received only ten consumer complaints of customers having such difficulty unlatching the buckle, over two and a half years.
The company assures in recall documents that it no longer uses the affected AmSafe QT1 and QT3 buckles in its new child seats and now uses a buckle from a different supplier. The QT1 version was last used in May 2013, while the QT3 was last used for March 2014 production.
The 'remedy': a new buckle
Evenflo will provide owners of models with the QT1 buckle a 'remedy kit' with a replacement buckle, while those with the QT3 buckle will be alerted to the issue and offered a replacement buckle upon request.
Information about the Embrace 35 recall, and what to do, will be added to Evenflow's dedicated recall site, at www.buckle.evenflow.com, or by calling 800-490-7591. And be sure to read this guide on what to do if your child's car seat is recalled.