Police report says Tesla on Autopilot sped up, didn't warn driver before hitting parked firetruck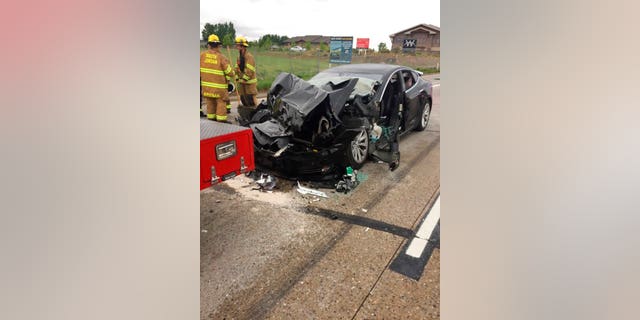 NEWYou can now listen to Fox News articles!
A Tesla Model S that crashed into a parked firetruck on a Utah highway this month while in its Autopilot mode sped up prior to the accident, a police report says.
Data retrieved from the sedan shows that it picked up speed for 3.5 seconds shortly before the collision in South Jordan, according to the Associated Press. The acceleration from 55 mph to 60 mph suggests that the Tesla had been following a slower car that then moved out of the way, allowing the Tesla to resume the higher speed that the Autopilot system had been set at.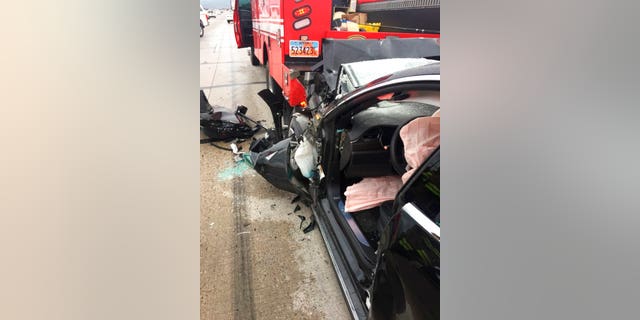 The driver, Heather Lommatzsch, told police that she had been looking at her phone and claimed the Tesla did not provide any warnings that it was about to crash. The car's log said that her hands had been off of the steering wheel for 80 seconds leading up to the impact, and that she applied the brakes less than a second before hitting the firetruck, which was blocking the lane to protect the scene of a previous accident.
Tesla has not yet commented on the latest AP report.
The driver who was sitting in the firetruck when it was hit suffered a minor injury consistent with whiplash, according to the report, while Lommatzch broke her ankle. She was charged with a misdemeanor traffic citation stemming from the incident, which is being investigated by the National Transportation Safety Board.
With AP