Pink Floyd drummer Nick Mason crashes multi-million dollar McLaren F1 GTR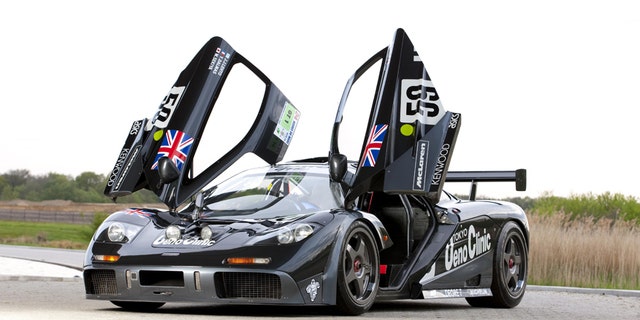 NEWYou can now listen to Fox News articles!
At least this wall wasn't made out of bricks.
Pink Floyd drummer Nick Mason took one of his classic cars for a spin this weekend…literally.
The 73-year-old collector was driving an ultra-rare 1996 McLaren F1 GTR in a historic event at the Goodwood Circuit in England when he lost control of the street-legal race car.
Mason twirled the red McLaren into a rubber-wrapped tire barrier, which bounced it back toward the track with damage to the nose that doesn't look too terrible, but the repair bill for the carbon-fiber car may say otherwise as it could be worth $15 million or more today.
Based on what was then the fastest car in the world, with at top speed of over 240 mph, just 28 F1 GTRs were built for racing and only a handful were later made road legal by McLaren. A standard version of the F1 that was wrecked twice by actor Rowan Atkinson sold for over $12 million in 2015 after he spent over $1.4 million on repairs.
Unlike some collectors, Mason often drives his on the road and track, along with the many other cars in his collection, which include racing Porsches, Bugattis, Aston Martins and a 1962 Ferrari 250 GTO similar to one that recently sold for a reported $52 million.
One of those almost upstaged Mason's McLaren at Goodwood when it came within inches of smashing into a pirouetting Jaguar E-Type, which backed into the barrier with minor damage as the Ferrari drove onto the grass to avoid it.
Mason and the other drivers all made it through their accidents unscathed.
MCLAREN'S NEW SPORTS CAR IS PRETTY SUPER