Parking valet caught speeding by in-car camera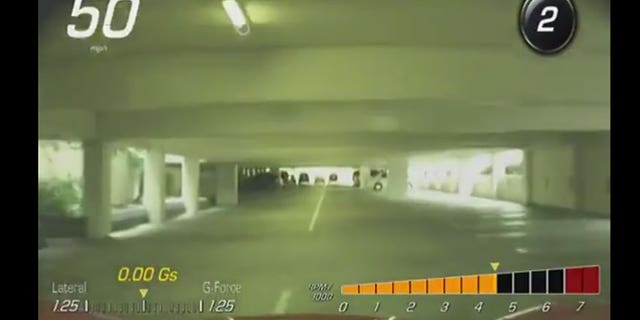 This may turn out to be a speed camera car owners like.
A Chevrolet Corvette owner used his car's built-in camera to catch a valet doing exactly what everyone fears valets do: drive like jerks.
The new 'Vette was fitted with Chevy's Performance Data Recorder (PDR), which is primarily designed to record the high-performance sports car's racetrack sessions, but also has a valet mode that keeps an eye on things when you hand over the keys.
In a video posted on YouTube by CorvetteForum.com member Dan Cowles, a valet at the Segerstrom Center for the Arts in Costa Mesa, Calif., drives into the parking garage, comes to a complete stop and then accelerates to 50 mph in about five seconds, all while straddling the line dividing the two-way traffic.
After he parks it, the valet is seen checking out the front of the car, apparently concerned he may have damaged it. Cowles says it was fine.
Cowles reported the incident to the valet's boss, but he said he doesn't know what, if any, disciplinary action was taken. The public relations representative for the center did not reply to a request for comment from FoxNews.com.
When it was launched this fall, there was some concern that the PDR could violate informed consent laws covering private recordings in some states, as it is also capable of recording audio. But Chevrolet spokesman Monte Doran confirmed that the system has been reprogrammed to disable audio recording in valet mode, making it legal to use it secretly nationwide.
In this case, Cowles says he did not warn the valet that the system was in use. Next time, now that the secret is out, he probably won't have to.
----------