Over 20 cars burned in possible arson attack at Salt Lake City airport
An overnight parking lot fire at the Salt Lake City International Airport destroyed more than 20 cars, causing an estimated $500,000 in damages and prompting an arson investigation by authorities.
Firefighters responded to the fire around 12:30 a.m. on Sunday morning in the Hertz Rental Car Lot, according to Fox 13.
Captain Kyle Lavender with the Salt Lake City Fire Department said that the fire doubled in size between the time crews were dispatched and their arrival.
SUSPECTED DRUNK DRIVER TRIED TO LIGHT CIGARETTE WITH HIS BURNING CAR
"These are cars that are parked bumper to bumper, and with the winds we had last night and the heat the cars were giving off, it was spreading quickly," Lavender said to Fox 13.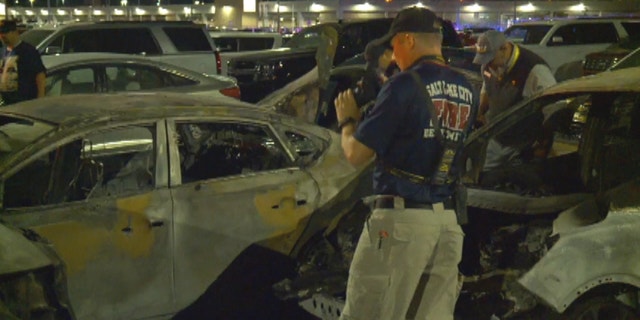 The cause of the fire is currently under investigation, but Lavender said that it looks suspicious.
"These are vehicles that are not even a year old, so not a lot of reasons mechanically that this should happen."
SEMI-TRUCK GETS STRANDED ON NORTH CAROLINA BEACH AFTER GPS GIVES WRONG DIRECTION
Lavender also wants to remind people how easily fires like this one can spread.
"These hot nights with the winds blowing down the canyon, it just shows how quickly fire can get pushed from object to object. We just want people to be careful and remember it can happen anywhere."
Firefighters also battled a blaze at the nearby Chevron oil refinery Saturday night, but it is unclear whether the two incidents are connected.