New Look of Lexus Teased in Photo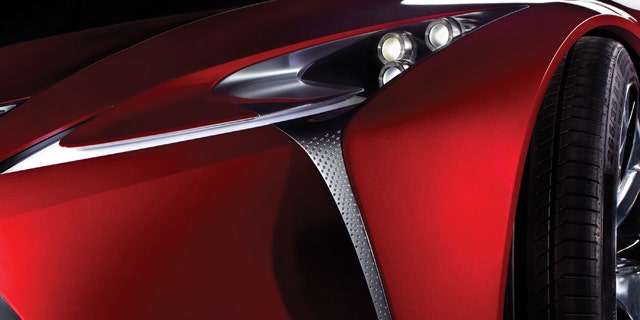 Don't cry for Lexus, even if its next concept car looks like it is doing just that.
The luxury automaker, which built its reputation on bland but bulletproof cars, is in the middle of a design renaissance. The $375,000 LF-A set an aggressive new tone when it was introduced last year, which has since trickled down to the CT200h and upcoming GS sports sedan.
Now the Japanese brand has released a teaser photo of a car that will be unveiled at the 2012 Detroit Auto Show in January, which it says "showcases the new design direction embraced by Lexus."
All that can be seen in the tightly cropped image are a heavily sculpted grille, extremely small projector beam headlights in a scythe-like surround, the corner of a honeycomb grille and a sharp vertical air intake with a sliver of silver trim that looks something like a tear. The features look at once similar to, but more extreme than the design of the company's most recent offerings.
What's not known is what type of car it depicts, although speculation ranges to the next generation IS sedan to a Lexus version of the recently introduced Scion FR-S sports coupe.
And, no, there doesn't appear to be champagne glasses balanced on the hood.