Mystery Surfaces at Barrett-Jackson Auto Auction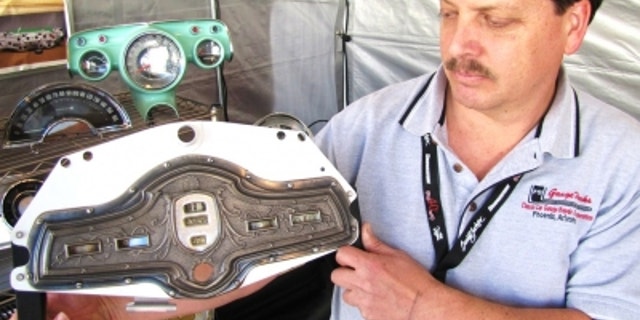 Randy Stebbins has a real mystery on his hands, and he hopes someone can step forward to help solve it.
Stebbins has a business that restores car gauges, and his vendor's booth at Barrett-Jackson in Scottsdale shows the wide array of old dashboards, early car radios and single gauges that he's made look new again at RS Gauge Works in Phoenix.
He knows his business and he knows dashboards, but this one has him stumped. Mounted on a steel frame apparently as a display piece is a silver, art-deco gauge cluster that looks rich and exotic. But the classic car that it was once a part of remains in question.
The cluster seems to be from the late '20s or '30s and probably came from a powerful luxury car. (Photo: Bob Golfen) About 15 inches wide with a rotary speedometer in the top center, it has a certain Great Gatsby look about it, and it could be a valuable piece for someone restoring whatever it is that it came from.
"I picked it up at the Reno swap meet a couple of years ago," Stebbins said as he showed a photo of the dirty and corroded way it looked when he found it. "It has a Stewart-Warner speedometer, so I know it was from the late '20s or early '30s.
"It has to be from something that had a big engine because the speedometer goes up to 100. Most only went to 80 back then."
Recognizing one of the gauges as similar in design to an Auburn's, he contacted an Auburn-Cord expert to check it out. No luck. Duesenberg maybe? Who knows?
So for now, the cleaned-up and polished dash cluster is known simply as the mystery gauges and it's set up on display in his booth at the WestWorld event.
"It sure would be nice to know what it is," Stebbins said.
If you think you might know the answer, contact Randy Stebbins on his web site at www.rsgaugeworks.com. Or stop by his booth just south of the main auction tent.
Click here for more coverage of the Barrett-Jackson auctions from Speed.com