Mopar Muscle monster truck ready to jam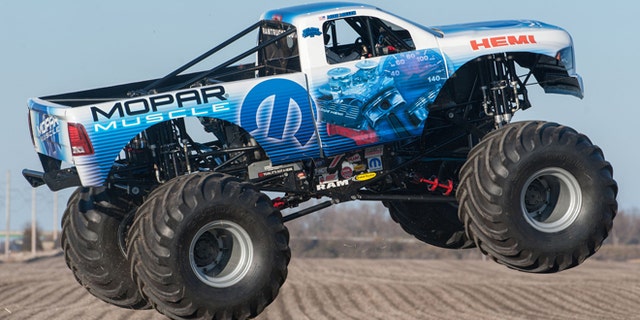 Hmm, wonder what the tow rating is on this.
Chrysler has unveiled the new Mopar Muscle monster truck, which makes its competition debut at the Monster Jam event in Detroit on Jan 11th. According to the automaker, it's the first new factory-sponsored truck to enter the series in over a decade.
It will be fielded at six events this year by multi-time champion Hall Brothers Racing, and has specifications identical to the team's Raminator and Rammunition trucks.
Designed to look like a Ram Heavy Duty pickup, Mopar Muscle stands 10 feet tall, weighs 10,300 pounds and is powered by a 2000 hp supercharged 565 cubic inch version of Chrysler's Gen II 426 Hemi engine, which not coincidentally is celebrating its 50th anniversary this year.
And that's not the only connection to the motor, driver Mike Miller has a son named Hemi.
No pressure there.
Read: Camouflage Ram pickup breaks cover