Monster Energy becomes new NASCAR Premier Series title sponsor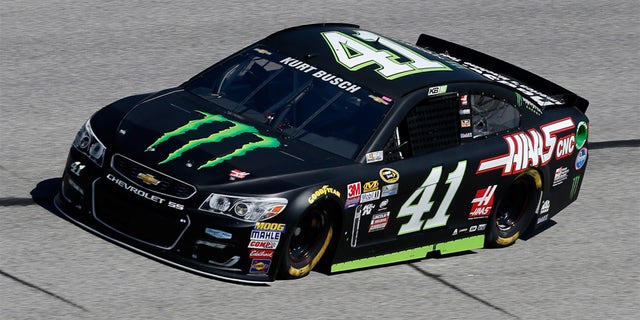 NEWYou can now listen to Fox News articles!
Nearly two full years after Sprint announced it would pull the plug as title sponsor of the sanctioning body's Premier Series at the end of 2016, NASCAR announced Thursday in Las Vegas that Monster Energy will take over that role next year and beyond.
NASCAR Chairman and CEO Brian France, along with NASCAR Executive Vice President & Chief Global Sales and Marketing Officer Steve Phelps and Monster executives, made the historic announcement Thursday afternoon in Las Vegas, where Friday night NASCAR will fete the now seven-time Premier Series champion Jimmie Johnson.
"Obviously, they're an edgy brand," said France of Monster Energy. "They're a fun brand. They get out a millennial audience in a different way than we probably had — clearly than we've ever associated with, particularly at this level. And they know what they're doing. This is their DNA."
France said that because Monster Energy has extensive motorsports experience, they will be able to hit the ground running despite the late date of the announcement.
"These guys are ready on Day 1," said France. "Even though it's December and a bit late in the game, they have the activation tools, the plans and the people. They do it all in-house."
Financial terms of the NASCAR-Monster deal were not disclosed. And as of Thursday, there is no series name, logo or trophy yet.
"We are working on the exact composite logo and otherwise, and we'll be back shortly on that," France said. "It won't be long, but we've got some real good options on that. Not today."
When Nextel, which later merged with Sprint signed on originally to be the NASCAR title sponsor in 2004, the deal called for $750 million over 10 years, according to multiple news reports.
The Sports Business Journal reported in March 2015 that NASCAR was asking for $1 billion over 10 years for Sprint's replacement. Conventional wisdom is that this deal is for far less money, though France declined to discuss specifics.
The youth-oriented Monster brand, which is a Coca-Cola affiliate, should be a perfect fit for NASCAR because the sport is in a unique period of transition with an astonishing lineup of young talent coming up in the ranks.
Chase Elliott, Ryan Blaney and Chris Buescher all enjoyed excellent rookie seasons in the Premier Series in 2o16 and behind them, the talent pool is deep, including XFINITY Series champion Daniel Suarez, Erik Jones, William Byron, Bubba Wallace, Daniel Hemric, John Hunter Nemechek, Tyler Reddick and Cole Custer, to name just a few.
Bringing in a company like Monster that specializes in the youth market makes an awful lot of sense at a time when NASCAR is going all-out to attract the coveted younger demographic in a sport that right now has an older fan base.
"Fashion is set by a small group of influencers," said Mark Hall, Monster Energy's chief marketing officer. "The challenge is to make your product relevant to that group and then have them influence the others. If we've been successful in the past, we've followed that model. I think we have a lot of drinkers in the current NASCAR fan base. I think we can make the sport more interesting to some younger consumers, as well."
If you've ever been to a Monster Energy Supercross race, you know it isn't just a race; it's a lifestyle event, filled with sound, fury and nonstop entertainment. There are fireworks, bright lights, fire, loud music and all manner of visual and auditory stimulation — exactly what NASCAR needs right now to pump some energy into the sport.