Mercedes-Benz X-Class pickup revealed
Mercedes-Benz will begin selling a pickup truck next year, and it may come to the United States one day.
The X-Class, unveiled in Sweden on Tuesday in concept form, was co-developed with Nissan and is based on the Japanese automaker's global Navarra model. It features unique bodywork and an interior dressed to better fit its premium image.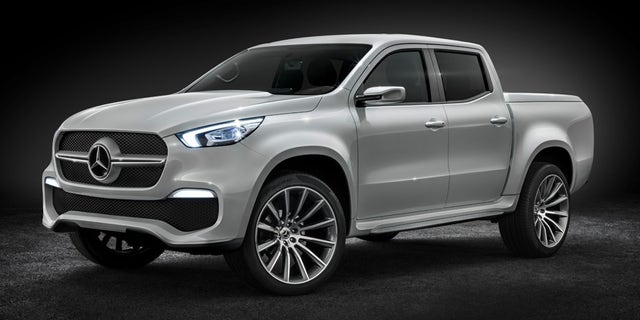 NEWYou can now listen to Fox News articles!
Mercedes-Benz showed off road and street versions of the body-on-frame truck, which will be offered in a five passenger crew cab configuration with a short bed and a four-wheel coil-spring suspension. Rear and all-wheel-drive models will be available, the 4x4s equipped with a low range transfer case and locking differentials for true off-roading capabilities.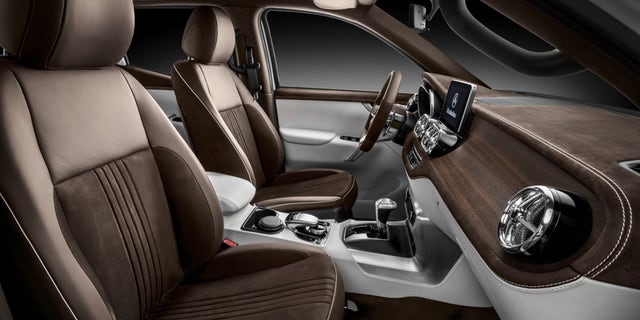 A selection of diesel engines will be available at launch, with a V6 of unspecified size and power topping the range. Mercedes-Benz claims it will have a maximum payload capacity in excess of 2,400 pounds and be able to tow over 7,700 pounds, both on the very high end for midsize pickups.
Along with leather upholstery and real wood trim, the X-Class will have the latest radar and camera-based driver assist and automatic safety systems and an infotainment system accessible via a smartphone app.
While the X-Class will be initially built in Spain and Argentina, and sold in Europe, South America, South Africa and Australia, a Mercedes-Benz spokesman confirmed to Fox News that it is under consideration for the United States, but that "no timeline for a decision is available."
-----------
The Mercedes of minivans: