Last ever Ford Falcon XR Sprint editions go on sale, sell out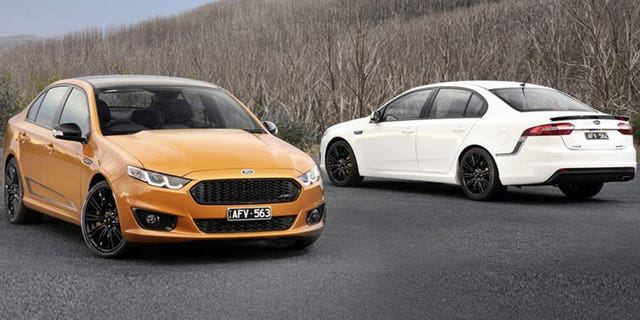 Blink and you may miss them.
The fastest ever Ford Falcon goes on sale across Australia today — and it's already sold out.
The final edition of the Ford Falcon is going out on a turbocharged and supercharged high note, with two of the most powerful models ever made.
The Ford Falcon XR6 Turbo and supercharged XR8 "Sprint" editions have the same blistering performance as the arch rival Holden Special Vehicles GTS sedan — but starting at $55,000, the fast Fords cost about half as much as the hottest Holden.
Only 1400 of the Ford Falcon Sprint models will be made between now and when the Broadmeadows production line comes to an end on October 7 this year.
Even though the cars have all been allocated to dealers — and most have names against them — Ford says it cannot and will not build any more.
"We want this to be a special celebration of the Falcon," said Ford Australia boss Graeme Whickman. "We'd rather have one order too many than one car left over."
Ford dealers have told News Corp Australia that enthusiasts have been waiting to buy the final edition of the Falcon, but those who didn't get in early will miss out.
"We have more customers than we have cars," said one veteran Ford dealer who asked to remain anonymous so Ford does not revoke any of their allocated vehicles.
"We haven't been able to sell Falcons in decent numbers for years; now that it's about to come to an end, buyers are coming out of the woodwork."
There will be just 500 XR6 Turbo Sprints and 750 supercharged XR8s for Australia; the remaining 150 cars will be exported to New Zealand.
Testing by News Corp Australia has shown the fast Ford can do the 0 to 62 mph dash in a Porsche-like 4.7 seconds, although internal testing by Ford has snuck under that time.
More automotive news from news.com.au